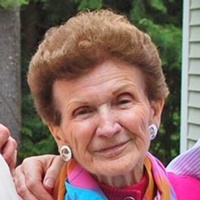 Joan Lorraine (Rais) Roberts, a long-time resident of Framingham and Southborough, passed away peacefully on Sunday, July 29, 2018. Joan was born on May 15, 1930, the daughter of the late Constas and Alice (Coppers) Rais.
She was predeceased by her loving husband, Herb in 1993 and her beloved sister Kathleen Treanor in 1976.
Joan is survived by five adoring children: Michael and his wife Julia of Stonington, CT; Lisa of Washington, DC; Roy of Sudbury, MA; Eric and his wife Sonia of Bedford, NH, and Janet of Southborough, MA.
She leaves behind five cherished grandchildren: Wilson, Samantha, Alison, Savona, and Camden.
She is also survived by her brother Robert Rais of New Castle, NH, and her sister Constance Skawinski of Washington Crossing, PA, and many nieces, a nephew, and their children, who will all miss her dearly.
Joan was born in New York and spent a number of years living, working, and socializing in New York City.
In 1956, she married Herbert Roberts and they lived in Philadelphia and New York while starting a family. In 1967, the still-growing family of six moved to Framingham where they grew to a family of seven and lived for over 25 years. In Framingham, Joan raised her 5 children, and was involved in the community in many ways. She enjoyed her job running the Pumpkin Seed Gift Shop at Framingham Union Hospital and the gift shop at the Danforth Museum. Joan worked at Barnes & Noble in Shoppers' World for over 10 years and loved being part of the team, dressing up for midnight releases of Harry Potter books. She retired as their most senior employee.
In 1999, Joan moved to Southborough and was an involved member of her community where her neighbors at Southborough Meadows and the parishioners of St. Anne's became wonderful friends.
In recent years she was a resident of Carmel Terrace and then St. Patrick's Manor in Framingham. This community became an extension of Joan's family, and the love and care she received from everyone there enriched her life and was deeply appreciated by her family.
Joan was a most devoted wife, mother, mother-in-law, grandmother, sister, daughter, aunt, community member, and friend. She always enjoyed listening to music and loved to dance. She had a wonderful sense of humor and a fun spirit. Spending time with her family was truly her greatest joy and she will be very much missed by all.
Relatives and friends are kindly invited to attend her funeral Mass on Monday, August 6, 2018 at 11:00 am. The service will be held at St. Elizabeth Seton Church, 190 Meetinghouse Rd, Bedford NH.
In keeping with her wishes, there will be no funeral home visiting hours.
In lieu of flowers, expressions of sympathy may be made to the Cure Alzheimer's Fund at curealz.org/donate