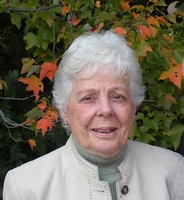 Joan "Kellie" (Halliday) Ferri, 83, a longtime resident of Southborough and Ft. Lauderdale, Fla., passed away peacefully Aug. 12, 2018 after a long battle with cancer. She was the beloved wife of the late Richard P. Ferri, who died in 2010. Together they were co-owners of the Vaccon Company in Medway.
Born in Framingham, she was the daughter of the late Mary (Keefe) and Wilfred Halliday. Joan graduated from Framingham High School in 1952 and continued her education at Worcester Teaching College, where she earned a bachelor's degree in 1956.
She was a substitute teacher in the Southborough school system, and was very active in the Southborough community and youth organizations; including Cub Scouts, Boy Scouts, and Girl Scouts.
Joan also helped start Southborough Youth Girls Softball League. She enjoyed playing tennis and golf until her illness would not allow her to continue. In addition to being an avid golf and tennis fan, she was also a longtime Notre Dame football fan.
Joan was two-time breast cancer survivor and a one-time lung cancer survivor. She was the inspiration for the "pink pump" breast cancer awareness promotion established in her honor by Vaccon employees; a very unique product that was embraced in the industrial automation industry.
She is survived by her children, Matthew Ferri and his wife Barbara Demers of Uxbridge, Ellen Ferri of Hudson and Yoohoo, Thomas Ferri of Silk Hope, N.C., and Brian Ferri and his fiancé Patricia Gallivan of Westborough; her siblings, Wilfred Halliday of Vernon, Conn. and James Halliday and his wife Maryann of North Conway, N.H.; her grandchildren, Jacqueline Ferri of Hudson and Jeffrey Ferri of Westborough; a daughter-in-law, Brenda Ferri of Hudson; and a sister-in-law, Connie Halliday of Yarmouth. She was predeceased by her brother, John Halliday, and a sister-in-law, Ann Halliday.
Visiting hours will be held Thursday, Aug. 16, from 4-7 p.m., at Morris Funeral Home, 40 Main St., Southborough. A memorial Mass will be held Friday, Aug. 17, at 11 a.m., at St. Matthew Church, 26 Highland St., Southborough. Burial will be private and at the convenience of the family.
In lieu of flowers, memorial contributions may be made in her memory to The Breast Cancer Research Foundation, 28 West 44th St., NY, NY 10036 (https://www.bcrf.org/) or St Jude's Children Hospital, 262 Danny Thomas Place, Memphis, TN 38105 (https://www.stjude.org/).
To leave words of condolence to the family, please visit www.morrisfuneralparlor.com.