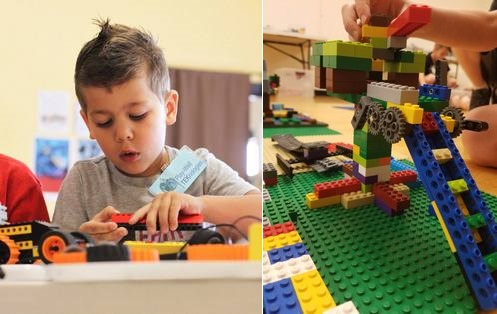 The next 3 weeks of school include three holidays and a K-8 half day. While most parents have Labor Day off from work, you may be stressed about what to do with your kids on those other days.
Recreation is offering solutions. It's not complete coverage – but for some of you, it should be better than nothing.
For $45 a pop, you can sign kids ages 5-12 up for programs at Recreation's South Union Building at 21 Highland Street. Programs are offered from 9:00 am – noon on the two Jewish holidays and an afternoon program on the half day.
Students are asked to bring bottle of water and peanut free snack. (So, make sure your kids eat lunch before you bring them to the afternoon session on the 13th.)
All three classes will employ LEGO engineering to engage the kids. Rec is bringing back Play Well TEKnologies to run the sessions.
Here are the details:
Monday, September 10 (Rosh Hashannah), 9am to 12pm
Simple Machines with LEGO Workshop
Build racing cars, launching catapults, lifting cranes and more as we explore Simpe Machines in LEGO! Students will learn about how the Six Simple Machines (Lever, Pulley, Wedge, Screw, Inclined Plane, Wheel & Axle) help engineers get the job done. Have hands‐on fun while learning the true fundamentals of the mechanical world! (Click here for more details or to register.)
Thursday, September 13 (Early Dismissal K-8), 12:30 to 3:30 pm
Gear Cars
How can we make our LEGO cars go? Introduction to transmissions and gears to make a car that races across the room. Take it one step further with gear ratios, learn how to make the fastest car of the strongest car. (Click here for more details or to register.)
Wednesday, September 19 (Yom Kippur), 9:00 am to 12 pm
Mine, Craft, Build: Adventure Game with LEGO
Bring Minecraft to life using LEGO bricks! Resourcefulness, creativity, and cooperation come together in this unique building adventure game; roll the dice to min for resources, and use these resources to build special items to help in our adventures! Build a zoo, create a Medieval Castle, and design a Tree House Village!
This experience is an original game designed by Play‐Well instructors inspired by the popular game, Minecraft. Students will have a blast, even without any prior experience with Minecraft or the LEGO building system. (Click here for more details or to register.)