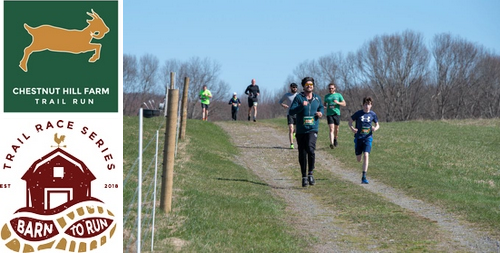 On Saturday, September 22nd, Chestnut Hill Farm will host another trail race. Instead of featuring running goats, this one comes with a beer chaser.
The Barn to Run event features 3.4 mile and 5 mile options. Both send runners off on trails through the farm and Beals Preserve.
The race begins at 9:00 am. Registration opens at 8:00 am and the awards ceremony is at 10:00 am. Awards will be presented to the fasted 3 males and females in each race.
Post-race fun will include:
beer courtesy of the ZeLUS Beer Company, activities for kids, barnyard visits, awards, giveaways and more.
(Based on the approved one-day liquor license, the fun is set to end at noon.)
The Southborough event is:
part of the Barn to Run Trail Race Series and is a production of Sun Multisport Events in partnership and cooperation with Chestnut Hill Farm, the Trustees of the Reservations, the Southborough Open Lands Foundation and the Southborough Trails Committee. A portion of each race entry will be donated to the Trustees.
Registration costs $30-$35 per runner. Or you can sign up for a "season pass" to run in all three races in the series – which starts this weekend. The other two are:
Weir River Farm Trail Run in Hingham, MA (9/16/18)
Powisset Farm Trail Run in Dover, MA (10/28/18)
Click here for more details and to register.
Note: No dogs are allowed at the farm.
Updated (9/12/18 10:21 am): I accidentally wrote Sunday for the Saturday event.
Updated (9/13/18 8:14 am): I was informed two of the original details were wrong. There will not be a food truck and there is no sold out fun run.