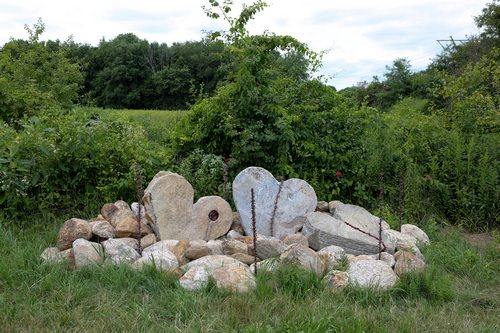 If you haven't explored the Art on the Trails exhibit at Beals Preserve, you have ten days left to do it. The exhibit will be closing on Sunday, September 23rd. For the second year, the end will be marked with a Poetry Walk.
A call for poems inspired by exhibits on the trail went out this spring. The result is another poetry book with photos. During the September 23rd closing ceremony, poets will read their poems at the "Unexpected Gestures" art installations that moved them.
If you haven't checked out the exhibit you don't have to wait for the ceremony to enjoy the art. You can always head there by yourselves to enjoy exhibit embedded along the Beals Preserve trails.
Enjoy an unguided walk before the 23rd for an unfiltered experience. Then go back for the guided walk to meet artists and hear the poets' reactions. (Just don't use the "event parking" before the event. Field parking is only available for special occasions.)
Below are a couple of pics I snapped this summer.
For much better photos, you should check out Southborough Wicked Local and the Art on the Trails website's gallery. (There's also a great story about the effort behind the exhibit in the Community Advocate.)
Here is the announcement on the closing ceremony:
Join Us For the Closing Reception and Poetry Walk

Sunday, September 23rd
4-6 pm

Raise a glass in celebration.
See the art one more time.
Hear poetry inspired by the art.

Poetry books with beautiful photography by Chelsea Bradway will be available for sale.
We can't wait to see you there.

The Elaine and Philip Beals Preserve
144 Main Street, Southborough, MA

Download the map with parking and directions.

To register for the event, click here.
For non-event parking details, click here, but use the above linked map to see where exhibits are on the trails.