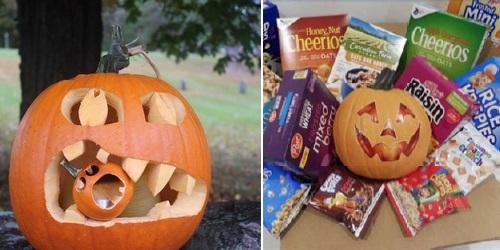 October is just around the corner, as is Heritage Day. Which means it's time to start highlighting some of the fun coming our way. As I've previously posted, the Southborough Rotary Club will again host it's annual night-before event.
In the past, I've referred to it as "the pumpkin wall". In it's 20th year, Rotary is renaming what they formerly called "Light Up Southborough".
The newly dubbed "Pumpkin Stroll" not only emphasizes the main event – it better fits the new time frame. This year, the public is invited to begin its stroll an hour early, rather than waiting for full-on dark.
The name and time change aren't Rotary's only new features. This year, the do gooders are looking to draw attention to a special drive for the Southborough Food Pantry.
They are asking for contributions of cereal and canned clam chowder – with a goal of 100 boxes and 100 cans. Drop off is during viewing hours from 6:00 – 8:00 pm.
If you aren't familiar – the event invites the community to contribute carved pumpkins. (Drop off is from 4:00 – 6:00 pm.) Every year, residents contribute silly, scary, grotesque, creative, and even beautiful carved gourds. (Check out last year's display here.)
The pumpkins are lined up on the stone wall surrounding the Old Burial Ground. The public is then welcome to "stroll by" the jack-o-lanterns, beginning just past the Library on Common Street, up to the corner and right on to St. Mark's Street.
Rotary will also be offering "light refreshments" at their table in front of the Library.