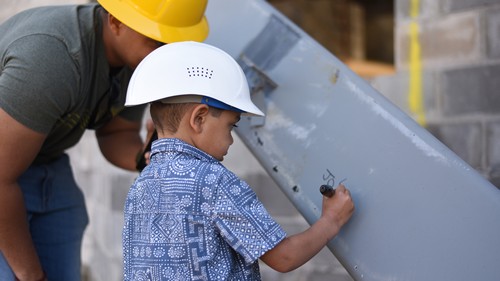 The Public Safety Building Committee is inviting the community to two special events. One will take advantage of Heritage Day:
The Public Safety Building Committee would like to welcome the public to two events as we celebrate the progress of the construction of the new Public Safety Facility:

1) Monday October 8th (Heritage Day) – 11 AM to 4 PM – During the Fire Department Open House, stop by the Fire Department to sign one of the steel beams that will be used in the construction of the facility.

2) Friday October 12th, 7:30 AM, Southborough Public Safety Construction Site on Cordaville Road (use Golf Course parking lot entrance) – Please join us for a short ceremony as one of the final beams is raised onto the facility. Additional parking is also available at the Senior Center.
Worth noting – Don't assume (as I initially did) that the beam signed in the first event will be raised in the second. Apparently, the beam to be signed is a "smaller beam" so may not used at the October 12th ceremony.) But Heritage Day will be the only opportunity for residents to sign the beam – and it will be installed in the building at some point.
Also, don't let the phrase "one of the final beams is raised" fool you into thinking major construction is almost done. There's still a ways to go. Still, photos posted to the Southborough Fire Department's Facebook page a few days ago demonstrate some great progress since the last pics I shared. The post updated that footings for the steel building supports are in and elevator shaft is on it way up:
As of its last monthly update, the committee was still aiming to meet a mostly-complete target of July 2019. The committee is scheduled to formally update the Board of Selectmen tonight on the current status.