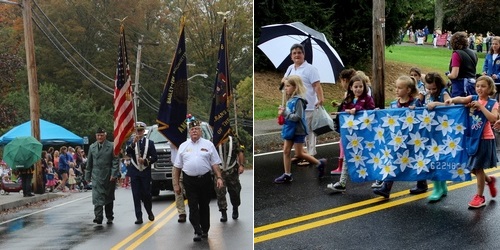 Southborough Recreation has shared information on the Town's big community parade on Monday.
This year's email to highlighted, bolded, and implored marching groups to carpool!
The annual Heritage Day parade represents about every segment of our society. (If you're not marching in it, you're sure to know people who are.)
If you aren't attending – I'd advise anyone commuting around 9:00 am or later on Monday morning to avoid town center and the parade route. (You may want to scroll down for the map.)
If you are marching, or dropping off someone who is, here are this year's details:
9:00 am Organizing begins – Parade marchers begin to organize at St. Anne's Church.
Drop Off is in front of the church on Boston Road. Boston Road will be made ONE WAY during drop off. (Let policemen know you are with the parade and they will let you through.)
Parking near the church is limited and only allowed on Newton Street and Overlook
Students marching in a band should their instruments put together and music in hand before being dropped off. (Leave your case in the car.)
Groups with children –-

Parents must coordinate carpools

. Parking is scarce!!
10:00 am Procession begins – Vehicles, marchers, and floats head down Boston Road, turning left down Main Street through downtown and past St. Mark's field, turning right onto Marlboro Road and ending just past the Library.
Parents are again asked not to pull kids out before they march to the end. In other words, don't grab them at the Route 30 & 85 intersection.
Here are images Rec sent out with a parade map and information on where your marching group should gather:
Happy marching! (And if you take any great pics of your group, be sure to email mysouthborough@gmail.com.)
Click here to see all of my posts related to Heritage Day weekend 2018.