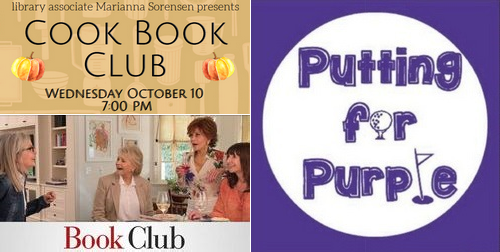 Here are highlights of what's happening around town this week.
[Note: The highlights don't include ongoing weekly programs. For those listings and more, check the Event Calendar.]
Tuesday, October 9, 2018
Poetry Workshop (6:30 – 8:30 pm) @ Southborough Library, Main Level: At each Tuesday session, everyone is asked to bring in five copies of their original poetry and distribute them to the group. Someone will read the poem and the group will provide supportive feedback. If you don't have a poem, come anyway! We are always interested in your insights. The group is meeting every 2-3 weeks.
Wednesday, October 10, 2018
Fall International Walk to School Day (8:00 – 8:50 am): Finn and Woodward schools each organize walk-to-school events for this morning. Finn students will meet at the Recreation Center, 21 Highland Street, to walk from there with parents. Woodward students can join the regular Wednesday "Walking School Bus" or meet at St. Anne's parking lot at 8:15. (Check the schools' Thursday packets for more details.)
NSPAC – Meet the Student Support Services Administration (10:00 am – 11:30 am) @ Northborough Library, 34 Main St: The Northborough/Southborough Special Education Parent Advisory Council will host the meeting with the district administration's Student Support Services department. For details, see the Facebook event.
Cook Book Club (7:00 – 8:00 pm) @ Southborough Library: Join the Library for its cook book club, meeting the 2nd Wednesday of each month. Participants each cook a recipe from the book of the month. This month's is Eat What You Love: Quick & Easy by Marlene Koch. To avoid overlap, email msorensen@southboroughma.com with your selection.
Thursday, October 11, 2018
Trailblazers hike: Bay Circuit Trail (1:00 pm) @ meet at the Southborough Senior Center: A free program of the Trailblazers for active seniors. Please register for the event by calling 508-229-4453. Carpool to the next south section of trail. (This is one of a series of hikes on the trail for the group.) Carl Guyer will lead the hike. For details, see dedicated post.
ARHS Financial Aid Night (7:00 pm) @ Algonquin Regional High School Auditorium: The School's guidance department's annual workshop on Financial Aid for parents of senior students planning to apply to college. You can see the video of last year's event on YouTube.
Composting 101 (7:00 – 8:30 pm) @ Southborough Library, main floor: Did you know you can recycle all your kitchen scraps and yard waste, and turn it into beneficial food for your plants? Presentation by Blackstone Valley Veggie Gardens. For details, see dedicated post.
Friday, October 12, 2018
Movie matinee (Senior Center program) (1:00 – 2:45 pm) @ Southborough Senior Center: Free screening of comedy "The Book Club." Snacks will be provided. Please sign up in advance at 508-229-4453. For details, click thumbnail right.
Saturday, October 13, 2018
Fay School Farmers Market (10:00 am – 1:00 pm) @ Harlow Circle in front of Fay's Primary School, 25 Middle Rd: Local produce, prepared food, and handmade goods by local vendors, and more. This week features: Make your own puppet and an 11:00 am Peter Rabbit Puppet Show. For details, see dedicated post.
Peter Rabbit Puppet Show (11:00 am) @ Fay School: Part of Fay's Farmers Market. See listing above.
Art Workshop for Children (10:30 am – 12:00 pm) @ Southborough Library, Main level: Children ages 5-9 are invited to be a part of the drop in art workshops. (Siblings allowed.) This session, children will be able to do some printmaking! Registration is not required. The workshop will be run by Bigelow Center for the Arts; Lanting Huang-Truong. This event is sponsored by the Friends of the Library.
The Steeple Coffeehouse Presents: The Kennedys (7:30 pm) @ Pilgrim Church's Fellowship Hall, 15 Common Street: Doors open at 7:00 pm. Proceeds from coffee and dessert purchases go towards local charities. Tickets – in advance: $17 General/$14 Students & Seniors (Brown Paper Tickets) At the door: $20 General/$17 Students & Seniors. For more details, check www.steeplecoffeehouse.org or call 508-281-9995.
Sunday, October 14, 2018
Putting for Purple (11:00 am – 3:00 pm) @ Green Thumb, Westborough: The annual fundraiser Finding a Cure for Epilepsy and Seizures in honor of (and partially organized by) a Southborough student. Donations of $10 per person buys you entrance to mini golf, facepainting, and an inflatable obstacle course. For details, see dedicated post.
Central MA Connections in Faith (6:00 – 8:30 pm) @ St. Mark's Church, 27 Main St: The Fall Gathering of a regional multi-faith program. Learn about one another's faith traditions and meet neighbors in small group facilitated discussions on questions of faith and identity. It includes a presentation on Christianity and the Episcopal tradition that will be followed by a Q&A and then small group conversations over dinner. RSVP appreciated. For details, see the Facebook event.
Updated (10/11/18 8:56 am): The Steeple Coffeehouse announced its season will kickoff on Saturday night.