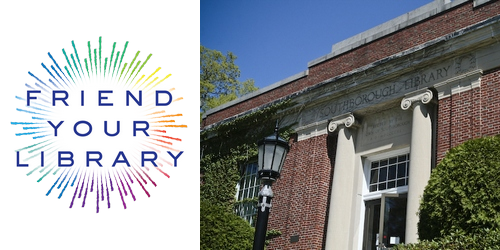 The flood this fall at the Southborough Library has a lot of people asking – how can we help? The answer is by becoming a Friend.
The Friends of the Southborough Library needs more hands on deck to help the Library.
We're looking for people who can give a little bit of time to make a big difference to the community.
The Library requires more than tax dollars to offer all of the programs the community enjoys. (And with insurance unlikely to cover all the new furniture that will be needed – that's not about to change this year!)
For over 45 years, the Friends have funded programs for all ages. We've also paid for museum passes (currently 19 venues*), bought furniture, and bridged other needs not covered by the Town budget.
Five years ago, the Friends announced that unless volunteers stepped up, the group would have to fold. I was one of the people who stepped forward – and became the President.
We worked hard to get the group's legal status in order. That allowed us to up our game. Now, we'd like to offer even more. But over time, several active volunteers have had to drop out. We need fresh blood.
If the library is important to you or your family, please consider joining us.
You could help:
Select Museum passes for children and adults.
Determine programs and speakers/authors to fund for public enjoyment.
Create and execute fund raising programs
Research new ideas
We also need people willing to take on some administrative/to do list tasks between meetings and other small jobs. So, whether you're interested in taking on a big role or a small one, there's a place for you in the Friends.
If you're interested in lending a hand or learning what's involved, please drop by the Library during one of our info sessions next week.
Join us at the Library:
Tuesday, October 16 @ 11:00 am for an "Informational Coffee"
Wednesday, October 17 @ 7:30 pm for "Info Night" (over refreshments)
I hope we'll see you there!
*Passes currently funded by the Friends:
Boston Children's Museum
Davis Farmland
deCordova Museum & Sculpture Park
Discovery Museum
EcoTarium
Garden in the Woods
Isabella Stewart Gardner Museum
Museum of Fine Arts
Museum of Science
New England Aquarium
Peabody Essex Museum
Springfield Museums

The Amazing World of Dr. Seuss
George Walter Vincent Smith Art Museum
Springfield Science Museum
Michele and Donald D'Amour Museum of Fine Arts
Lyman and Merrie Wood Museum of Springfield History

Worcester Art Museum
Zoo New England

Franklin Park Zoo
Stone Zoo