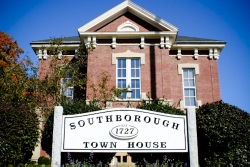 Here is a selection of the committee and board meetings for the week along with my selected highlights from the agendas. All these meetings are open to the public, so you're welcome to stop on by.
Be aware that changes to the meeting schedule are known to happen throughout the week. For an updated list of meetings, visit the town website.
Wednesday, October 10, 2018
Northborough/Southborough Special Education Parent Advisory Council, 10:00 am @ Northborough Library, 34 Main St, Northborough (agenda) Agenda Highlights: State CPR Review process; ESY summary; preschool – breakdown of students by town; Transition program at age 14; Executive function skill development at middle and high schools
Neary School Council Meeting, 3:00 pm @ Neary School, 53 Parkerville Rd (agenda) Agenda Highlights: Begin Review of 2018-2020 School Improvement Plan
Finn School Council Meeting, 3:30 pm (Note: This meeting is still listed on the school calendar, but no agenda has been posted as of this morning)
Public Safety Building Committee, 6:30 pm @ Hearing Room, Town House, 17 Common St (agenda, materials packet) Agenda Highlights: Solary Canopy RFP, Beam Signing and topping off, interior design mockup review logistics, golf course operations/logistics – Broadcast live and replayed by SAM*
Southborough School Committee, 6:30 pm @ P. Brent Trottier Middle School Library, 49 Parkerville Road (agenda) Agenda Highlights: K-12 World Language Update, Kindergarten Update on the Transition to Tuition Free, Health & Wellness Committee Update, and Food Services Update
Recreation Commission, 7:00 pm @ Recreation Office, 21 Highland St (agenda) Agenda Highlights: Proposed revisions to Capital Planning; Project Updates; Tennis Courts – Final decision on resurfacing and potential repurposing of former skate park for basketball – to be recorded for delayed broadcast by SAM*
Thursday, October 11, 2018
Conservation Commission, 6:30 pm @ Hearing Room, Town House, 17 Common St (agenda) Agenda Highlights: 41 Oregon Rd porch addition; Neary School overhead lights; NECC repair of sewage disposal system; 9 School Street repair of septic; 22 Lovers Lane home construction; 58 Deerfoot swimming pool; 118-120 Turnpike parking expansion; 19 Ward Rd new home construction
Friday, October 12, 2018
Economic Development Committee, 7:45 am @ EDC Office, Town House, 17 Common St (agenda) Agenda Highlights: ULI Report status (possible approval), 2 East Main St status; zoning, potential land opportunity; Budget FY20; Shop SOBO update
Personnel Board, 8:00 am @ Hearing Room, Town House, 17 Common St (agenda, materials packet) Agenda Highlights: Memos on comparable communities and new hires/hiring rates; Reviews of performance evals and salary for Fire and Library staff; Study of Schedule C Part-Time positions; Bylaw/SAP annual adjustment to salary schedule and discussio of revisions; FY20 budget; COA request for new Program Manager position; Library request for new hourly rate for staff member
*Southborough Access Media will broadcast the Public Safety Building Committee meeting live on Verizon-37 and Charter-192. It will also record the School Committee Meeting for a delayed broadcast. Click here to see this week's schedule with rebroadcast times. (Videos are also usually made available through their YouTube channel by the following morning.)
Updated (10/10/18 10:56 am): Although SAM didn't have the School Committee meeting listed on its upcoming program schedule, a producer confirmed that they will be recording it for future broadcast.