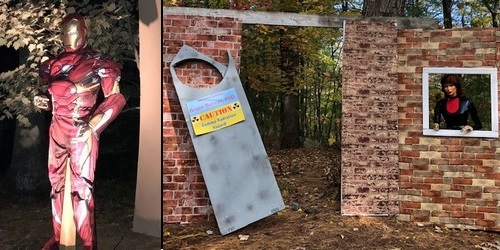 Every year, one couple goes all-out on a Halloween display that draws kids from miles around. When kids walk up the drive, the Sutherlands expect too hear "ooh!" not "eek!".
Forget about seeking out the "good candy" neighborhoods tomorrow night. (After all, kids will eat anything with sugar.) Take the kiddies to 139 Parkerville Road to see the Avengers take on super villains.
Blair Sutherland and his wife have been putting on multi-media Halloween displays in their yard for years. They take pride in creating fun Halloween memories for kids. (But with young kids in mind, they keep most of the fright out of Fright Night.)
Below is a preview of this year's fun:
Tomorrow night after dark, you can expect more props, music and sound effects and special effects to help complete the illusion. (But no live actors jumping out.)
The couple expects to have the display lit and active from dark until about 10:00 pm on Wednesday night. So be sure to swing by.
For more on the Sutherland's Halloween tradition, click here for past stories and displays.
Updated (10/31/18 7:41 am): Fixed the link above.
Updated (10/31/18 7:45 am): I forgot to include the text from the community invite:
The forces of evil have descended on Parkerville Road, but the Avengers and their allies from Marvel comics have arrived to keep us (and the Universe) safe!

Beginning on the evening of October 31st, these characters will wage an epic battle including special effects from the Hulk, Ironman and Surtur, along with many other villains and hero's arriving on the Bifrost rainbow bridge!
Updated (10/31/18 7:47 am): I've obviously been really distracted. I just realized that there were two pic of Thanos above and no Captain America. Fixed that. Hopefully, I'm done now!