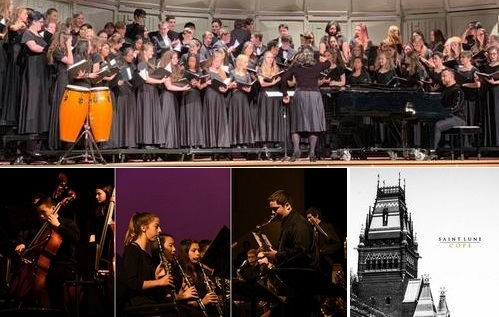 Every fall, Algonquin holds musical showcases for its students to perform. This year, the Arts department can also be proud of an alumnus that released a new album.
When it comes to music, hearing is better than reading. So, along with a roundup of the news, there are samples embedded below.

Tomorrow night is Algonquin's Fall Instrumental Concert. Th school's Concert Band, Symphonic Band, Wind Ensemble, String Orchestra, Jazz Ensemble I and Jazz Ensemble II will make their debut performance for the 2018-2019 school year.
That's 7:00 pm, November 1st in the auditorium. (Click here for more pics from last fall by Andrew Michalik for the Northborough Southborough Music Association.)
Last week, was the school's vocal showcase. The Arts department tweeted the big finish from the ARHS Fall Choral Concert:
Beautiful finale to the Fall Choral Concert: A World of Song! #artsmatter #arhsmusic #gothawks pic.twitter.com/NvVo2g62WJ

— Fine&Performing Arts (@GonkArts) October 25, 2018
You can hear another selection from the concert, "Oh, What a Beautiful City" here and check out more pics posted by NSMA to Facebook here.
Southborough native son, Nate Scaringi, is putting his skills as a graduate from Algonquin's music programs to work. Scaringi, currently a sophomore at Berklee, belongs to the band "Saint Lune". The band just released its first album.
Scaringi is credited as the Assistant Producer and Assistant Sound Engineer for the album "Cope". He also performs on guitar and piano.
You can learn more about the band, sample more songs, and purchase the album here.
Update (10/31/18 10:59): I initially forgot to credit Andrew Michalik for last year's fall instrumental pics.