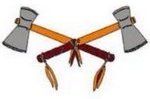 Six of Algonquin's teams are in regional tournaments this week. At least two are going up against top seed competitors. Plus, another team heads to States this week.
Volleyball won its First Round of sectionals against upper seed Westford Academy 3-0 on Thursday. Now the 9th seed team has to take on top seed Acton-Boxboro on Tuesday for the Quarter Finals.
On Friday, Field Hockey beat lower seed Auburn 3-0 in the Quarter Finals. The 4th seed Girls will challenge Wachusett in the Central MA Semi-Finals on Wednesday. If they overcome the top ranked team, they'll play in the Finals on Saturday.
Cheerleading squads boasted great outcomes from yesterday's qualifying tournaments. Game Day came in 2nd at regionals, and will compete at State this Saturday. Performance squad came in 4th place at the league meet.They'll compete in Central West D1 Championships. Both tournaments take place on Saturday at Marlborough High. If they qualify, Performance will move on to their States the following week at Worcester State.
As I previously posted, Girls Soccer starts with the Quarter Finals today. The 5th seed Girls will travel to 4th seed Westborough, a team they already beat this season. If they prevail, they'll play in Semi-Finals on Thursday. Despite needing to beat two upper seed teams to make it to the Finals, the Telegram predicts the Girls will be tough to beat:
The defending state champion Wachusett girls' soccer team enters the Central Mass. Division 1 playoffs as the No. 1 seed again this year, but no team has repeated as Division 1 district champions since Nashoba — this year's No. 2 seed — pulled it off in 2011 and '12, and it should be a competitive bracket again in 2018. . .

Last year's second-leading scorer, junior Lucy Gauvin, missed the first half of this season with an injury, which allowed junior Taylor Moore (8 goals) and senior Mia Barletta (5 goals) playing time to develop into solid scoring threats.

Now, with Gauvin getting closer and closer to last year's form, Algonquin has developed into a multi-faceted offense capable of scoring four or five goals a game against anyone.
Cross Country competed in Mid-Wach A League championships on Saturday. According to the Telegram, two runners came in 2nd place – Henry Weiland for the Boys and Tess Reyes for the Girls. Each team also had a second runner in the top ten – Kaitlyn Desio in 7th and Nick West in 8th. The teams head to the Central MA Championships this weekend.
I was routing for Boys Soccer's sectionals performance to reflect the start of the season – three straight wins that started with beating Groton-Dunstable. Instead, they ended their fall journey with three straight losses. Gonk lost its First Round 1-0 to its lower seed challenger on Saturday.
That just leaves Football, continuing its losing streak but still keeping on with another non-playoff game this Friday.
Below is the current schedule. I'll update you later this week if wins lead to more playoff games this week:
Monday, November 5, 2018
5:00 pm – ARHS Girls Soccer vs. Westborough High @ Westborough (Quarter Finals)
Tuesday, November 6, 2018
6:00 pm – ARHS Girls Volleyball vs. Acton-Boxborough Regional @ Acton-Boxborough (Quarter Finals)
Wednesday, November 7, 2018
7:00 pm – ARHS Field Hockey vs. Wachusett Regional @ Shepherd Hill Regional High School (Semi Finals)
Friday, November 9, 2018
7:00 pm – ARHS Football vs. Fitchburg High @ Fitchburg
Saturday, November 10, 2018
TBD – ARHS Girls Cross Country Central MA championships @ Gardner Municipal Golf Course
TBD – ARHS Boys Cross Country Central MA championships @ Gardner Municipal Golf Course
Sunday, November 11, 2018
TBD – ARHS Game Day Cheerleading @ Marlborough High (State Championships)
TBD – ARHS Performance Cheerleading @ Marlborough High (Central West Regionals)
Updated (11/5/18 8:21 am): The post somehow launched prematurely mid-edit! I had yet to include Telegram's coverage of Cross Country and Girls Soccer. Those are now inserted.
Updated (11/5/18 8:39 am): I had accidentally reversed the soccer seedings for Algonquin and Westborough (and therefore assumed the wrong location of the game).
Updated (11/6/18 9:39 am): I didn't include time and place of Field Hockey's game.