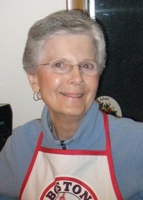 Sylvia D. (Bloch) Wiedergott, 84, of Northborough and formerly a long time resident of Southborough, died Thursday November 1, 2018 at UMass Memorial Medical Center in Worcester. She was the beloved wife of the late William A. "Fritz" Wiedergott, Jr, who passed away in 2017
Born in Allentown, Pennsylvania, Sylvia graduated from Allentown High School. Following graduation, she worked a number of years at Bell Telephone until deciding to marry the love of her life, moving to be with him as he completed his degree at Springfield College. Their marriage would last 60 years.
In 1958, Sylvia and Fritz moved to Southborough, where for the next 40 years they found their true home at St. Mark's School. During her years there, when not raising 6 children, Sylvia cheered – quite loudly! – for her husband's athletic teams, and spent 9 years working in the business office. She took up Skeet Shooting, worked as the secretary for the Massachusetts Skeet Shooting Association, was a terrific bowler, a voracious reader, enjoyed puzzling, and passionately supported the Patriots, FC Barcelona, and her beloved "boys" the Boston Red Sox, never missing a game. She lived long enough to see them win their most recent World Series.
She is survived by her children Anita-Marie Edwardsen; Teresa Wiedergott-Wilson and husband Steve; William A. Wiedergott III; Karl Wiedergott; Heather Cartier and husband Roland; her 5 grandchildren, Kristine Hart and husband Travis; Kelly Edwardsen; Ryan and Hannah Wilson; and Chace Cartier; her siblings, Arthur Bloch and Jane (Bloch) Brinker.
She is predeceased by her daughter Heidi Wiedergott.
A funeral service will be held Sunday, November 11th at 1:00pm at the Belmont Chapel, St. Mark's School, 25 Marlborough Road, Southborough. Burial will be at a later date in the Southborough Rural Cemetery.
In lieu of flowers, a contribution can be made in her honor to the Jimmy Fund. www.jimmyfund.org.
To leave words of condolence to the family please visit www.morrisSouthboroughfuneral.com.