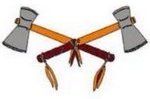 On Sunday, Algonquin athletes did their school proud. Three teams earned their way to state competitions this Sunday.
Cross Country's regionals were at Stanley Park in Westfield. Both team placed third to qualify for states. The Girls also boasted the race winner. The Telegram captured the drama:
[Tess] Reyes turned on the jets to catch defending champion [Shephard Hill's Rebekkah] James from behind in the final 100 meters to win her first CMass crown, in 18 minutes, 26 seconds. James was also timed in 18:26, with Reyes beating her by a step in what was nearly a photo finish.

"Rebekah, she's such a good runner," Reyes said. "My goal was to stay with her and use the straightaway to my advantage and use my closing speed to catch her at the end. I was trying not to fall too far behind. It was a real tough race. I went out pretty fast. I tried to stay with (the lead pack)."
Click here to read more and here for the photo. To read about the Boys' race, click here.
Two Tomahawks Cheer squads competed in Marlborough. I can't tell you how they placed, since results have yet to be posted. But Cheer Performance squad fared well enough in the regionals to move on to States. The State Championships are at Worcester State University on November 18th. Tomahawks are slotted for the second performance of their division at 2:30 pm.
(If I learn how Game Day fared at its State Tournament, I'll update the post. If any of you know, feel free to post a comment or email mysouthborough@gmail.com.)
The only other remaining fall sport is Football. The T-Hawks will travel to Westborough next week for the traditional Thanksgiving Day game.