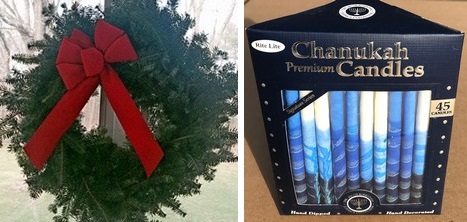 If you're already anxious to start decking the halls, you're in luck. Saturday, when you dispose of the last remnants from Thanksgiving dinner, you can pick up something to celebrate the next holiday.
Cub Scouts are selling Christmas wreaths and Hanukkah candles. For $15, you can buy a wreath or a box of candles.
Town packs just finished with door to door sales, but you can still catch them at booths around town or online.
If you order online via the website, you'll need to bring your online receipt to the Transfer Station this Saturday, November 24th, to pick up your items. The Scouts will be there from 8am to 6pm to make good on the online orders and make new sales.
It's not the only place and time they'll be setting up shop to sell. Here's the full schedule:
Sat. Nov. 24th 8am-4pm at Dunkin Donuts
Sat. Nov. 24th 8am-6pm at the Transfer Station
Dec 1st 8am-4pm at the Transfer Station
Sat. Dec. 1st 8am-12pm at Dunkin Donuts
Sat. Dec. 1st after 4pm Mass at St. Matthews
Sat. Dec. 1st after the 5pm Mass at St. Annes
Sun. Dec. 2nd after all Masses (7:30am, 9am and 11am) at St. Matthews
Sun. Dec. 2nd after 8:45am Mass at St. Marks Church
Sun. Dec. 2 after all Masses (8:30am and 10:30am) at St. Anne's Church
If you already placed your order with a Scout at the door, look for your orders to be delivered December 1-2.