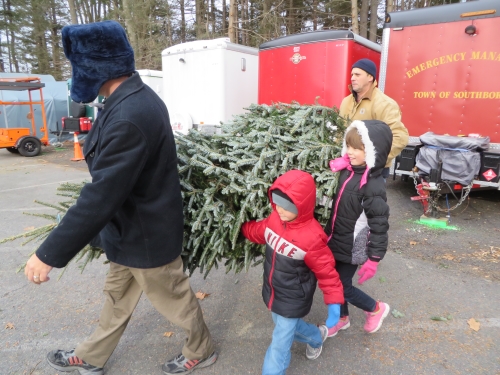 Maybe you're still feeling as stuffed as yesterday's turkey. But all around us are reminders that Christmas is just a month away.
Starting tomorrow, the annual Southborough Firefighter Association's Christmas tree sales start up. It's a tradition that dates back over 50 years.

At the fire station you'll find a wide range of tree sizes, ranging from 5-feet to 13-feet, all with reasonable prices. Your tree will get a fresh cut before volunteers help you load it onto your car/truck. It's a quick and easy trip.
Trees will be available Saturday, November 25th until they sell out. This year's hours are Saturdays and Sundays from 10:00 am to 9:00 pm and weekdays from 6:00 pm to 9:00 pm. They'll be holding those hours until they sell out.
Proceeds from the sale benefit the Southborough Firefighters Association. SFA funds go toward their annual scholarships, the Halloween parade, and other events and causes throughout the year.