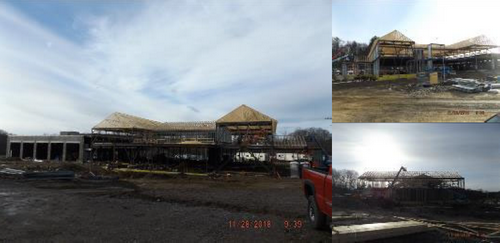 It's time for another update on the Public Safety Building project. The November newsletter came out. (Click here to open or scroll down for highlights.) Plus, the Public Safety Building Committee addressed questions about the approved $325,000 to add a carport.
Cruiser Canopy
The committee approved going forward with a 19 space canopy for police cruisers. Members passed up $75K in short term savings to instead meet envisioned long term needs.
As commenters on the blog pointed out, 19 spaces is more than the number of cruisers ever seen parked at the station. At last week's meeting, the Chair addressed questions he had gotten as to whether the canopy should be smaller. He told the board that for a 30% shorter canopy, they could save 25%. That would cover 13 spaces, one more than the current number of cruisers.
Chair Jason Malinowski told the committee that the space needs report had determined that the police force would need 15 covered cruiser spaces in the future. He said that shortening the canopy would only meet current needs and not address growth over "next 50 odd years". Members reiterated that the public had been promised that the building project would meet long term needs.
In the interim, the committee talked about using the extra space for the Fire Department's storage trailers. In an earlier plan, the SFD had asked for a canopy for trailers. Based on cost issues, that request was withdrawn.
Member Kathy Cook of Advisory asked Chief Ken Paulhus if the cruiser canopies were just for protecting cars from snow. He said it was for all weather – including 90 degree days and frost in the mornings. He referred to people parking in garages to prolong life of the vehicle.
Cook responded that she didn't believe a canopy would prevent frost. But she followed that if it was going to be built, it shouldn't be kicked down the road.
The committee unanimously agreed that they should "do it right once" rather than leave something to be addressed in the future.
November Progress Report
According to the latest newsletter from the Project Manager, the project was 30% complete at the end of last month. The report also acknowledged the approved schedule change, extending :
Phase 2 Substantial Completion date from July 1 to July 10 (there is one weekend and the Fourth of July holiday in the time period).
At this time, it appears the schedule has yet to be updated to reflect the negotiated change:
The schedule is still under review as CTA has not updated any dates due to their delay claim. There will be a meeting to discuss the schedule, and an updated schedule will be issued soon after for further review.
The only "Issue/Concern" currently noted is "winter weather conditions".
The newsletter contains a whole lot more detail, including a slew of pictures. To read it, click here.