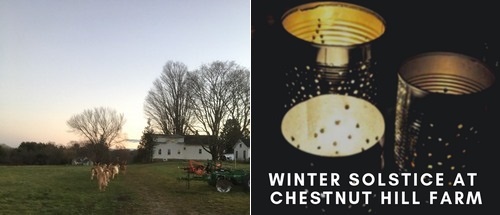 Some of us get grumpy about the days getting shorter and shorter. The Trustees of Reservations are turning that on its head by celebrating the longest night. (Or you could consider it the eve of days starting to get longer again.)
To mark the Winter Solstice, Chestnut Hill Farm is hosting a special event. (Note: Pre-registration is required and there is a fee for anyone over the age of 4.)
Here is the Trustees' announcement:
The longest night. The shortest day. The start of a new season. Each year the arrival of the winter solstice carries a distinct meaning for families… and farmers. In ancient Rome, the winter solstice meant a weeklong celebration of Saturn, the god of agriculture. On Friday December 21, from 3:00 – 5:30 p.m., Chestnut Hill Farm in Southborough will host a special winter solstice event for families to enjoy.

At 3:00 p.m. guests will gather in the farm's heated workshop to create lanterns from upcycled tin cans. Attendees should bring a large 28 oz. (or similar) upcycled, clean tin can with them to serve as the basis for the lantern. Chestnut Hill Farm will provide other materials and instruction on how to make the lantern.

At dusk, families will light their lanterns and embark on a guided candlelit walk along the farm's trails for a traditional farm-based solstice stroll. The group will stop at designated points to listen to passages from the story "The Shortest Day," by Wendy Pfeffer. At the conclusion of the stroll, the group will gather around a campfire in the orchard, to enjoy hot chocolate, hot cider, cookies and s'mores to welcome the winter season. With a little luck from Saturn, the stars will be twinkling above.

Details:
Chestnut Hill Farm's Winter Solstice Event will take place on Friday, December 21 from 3:00 p.m. to 5:30 p.m. Pre-registration is strongly suggested as registration is limited. To register, visit: https://bit.ly/2SACj10
The registration fees are: $9 per member or $24 per member family; $15 per non-member or $30 per non-member family. Children under age 4 are free.
Updated (12/20/18 11:55 am): Got word that a lousy forecast for tomorrow night is raining out the Winter Solstice celebration.