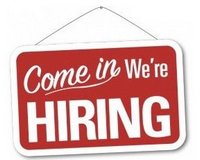 I received another posting of jobs available in Southborough.
I also learned of a part time, but critical, opening after seeing news that the Town's Veteran's Agent John Wilson has retired from his post.
(Congratulations to him on a retirement well deserved.)
The Town tweeted:
Today we salute John Wilson on his retirement as Veterans Agent. "Never give in…except to convictions of honor and good sense. Never yield to force; never yield to the apparently overwhelming might of the enemy." —Winston Churchill pic.twitter.com/1upHbzadU3

— Town of Southborough (@17common) December 7, 2018
Now, here are the new postings. (If you'd like to share your company's job openings in future weeks, email mysouthborough@gmail.com.)
Town of Southborough
Veterans' Services Officer (part-time)
The Town of Southborough is seeking qualified applicants for the position of Veteran's Services Officer. Duties/Responsibilities: provide assistance to Veterans and their dependents with support services as stated in Chapter 114 Medical Benefits and Chapter 115 Ordinary Benefits under MA. General Laws, as well as to interpret, explain and explore the policies, programs, benefits and services for veterans and assist with obtaining any resource or revenue available to them. Works under the supervision of the Town Administrator. This position is compensated with an annual $15,000 stipend. It is not eligible for any town benefits or insurance. Please submit resume and letter of interest immediately to personnel@southboroughma.com. Responses received by December 14, 2018 will receive priority.
Public Safety Dispatchers (part-time, per diem)
The Southborough Police Department is looking to establish a list of qualified candidates for per diem/part-time public safety dispatcher positions for immediate and future openings. Job duties include answering business and emergency calls, handling walk-in traffic, assisting the general public, and dispatching Police, Fire, and EMS. Applicants must be available to work nights, weekend and holidays. Must be 18 years of age or older with no criminal record. Applicants must have a minimum of high school diploma. (Click here for details.)
Southborough-based accounting firm
Seasonal work
Southborough tax accounting firm is looking for a local person with significant tax experience who wants to work seasonally. Seasons would include February 15 – April 15 and August 15 – October 15. Work would include preparation and review of large individual tax returns and partnership returns. Please contact Kathy Cook at 508-281-0560.
Public Schools of Northborough and Southborough
District Wellness Coordinator (full time)
The District Wellness Coordinator provides health, wellness and nursing leadership within the Public Schools of Northborough and Southborough. The District Wellness Coordinator addresses the physical and emotional needs of students by using a coordinated school health approach to ensure the health, safety, and well being of students and staff. (Click here for details.)
Special Education Aide, Long Term Substitute (full time, temporary) (Click here for details.)