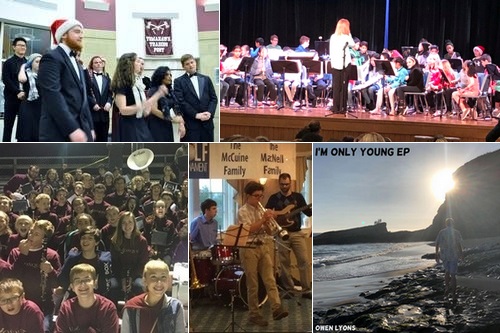 It's time for another update on our district's musical students. That includes earlier fall news that I missed last time around. Plus, an announcement from another alumnus.
Album Release

Southborough's Owen Lyons released a 4 song album "I'm Only Young – EP". The Algonquin grad recorded the album himself over summer break from UMass Amherst. Three of the songs were solo works. For the song "Hold On", he had help from two other alumni, Dylan Shea and Chuck Murray. You can check out the album via Apple Music.
To promote the album, Lyons released a video of his single "To My Family" about a young adult who grew up in a small town. Appropriately, the video for the homage to his family uses footage from home movies:
Upcoming Concerts
Neary School Orchestra and 5th Grade Winter Concert

The groups will perform for family and friends at 7:00 pm in the Trottier Middle School auditorium. Fellow Neary students walked up the hill yesterday to enjoy a preview performance. Tonight's concert will include private music instruction scholarship awards courtesy of the Northborough Southborough Music Association. (Stay tuned for a post soon on NSMA's junior membership level.)
ARHS Holiday Concert
Thursday, December 20 at 6:30 pm
Holiday music performed by all of Algonquin's Choral groups and Orchestra. (Note, that times are 30 minutes earlier than past years.)

The evening starts in The Rotunda with performances by their a cappella groups.
Next up are small chamber groups and a jazz combo in the lobby of the auditorium, where student art will be on display.
At 7:00, the concert in the auditorium begins featuring their orchestra and choral groups.
Finally, all alum are invited to join the orchestra and chorus on the stage to sing White Christmas.
Tickets are $5 per adult and $3 per student/senior citizen. (Although, members of NSMA can attend for free.)
You can also expect to see NSMA raising funds through a bake sale. Plus, "spiritwear" will be for sale for those of you still doing some holiday shopping for students.
Fall performances
ARHS Fall Instrumental Concert
Algonquin held its first instrumental concert of the year last month. Below is The Harbinger's quick video highlight reel:

School Pep "Exchange" and Jazz Combo
When I shared news in October, I missed two items that Gonk.Arts had posted about student musicians:
ARHS Pep Band/8th Grade Exchange

On Friday, October 5, the ARHS Pep Band, under the direction of Mrs Amy Collins and Mr Eric Vincent, invited 8th grade musicians from both Trottier and Melican Middle Schools to sit in with the band and perform at the football game! The evening started with a pizza party in the school cafeteria, a quick rehearsal in the bandroom, and then a fun time by all performing in the stands at the game. This night was sponsored by the Northborough-Southborough Music Association- they provided the pizza and an Algonquin Music shirt for all participation 8th graders!

Jazz Combo Performs At Golf Tournament

On Monday, October 1, members of the Algonquin Jazz I Band, under the direction of Mr. Eric Vincent, played at the St. Rose Golf Tournament at the Wachusett Country Club in West Boylston. The Algonquin band has been providing entertainment at the annual event for over a decade. The golf tournament raises money for youth services in the community.
The Jazz Combo performers were: Scott Alberti on trombone, Ethan Cardillo on guitar, Jason Goguen on drums, Jared Lin on alto sax, Jason Michalik on tenor sax, Justin Moyer on trumpet, and Mateo Oyola on bari sax.
Note: I didn't forget about the Neary and Trottier Middle School Chorus concert last week and Trottier's Band & Orchestra concert earlier this week. Unfortunately, no pics or videos were posted from either that I could share.