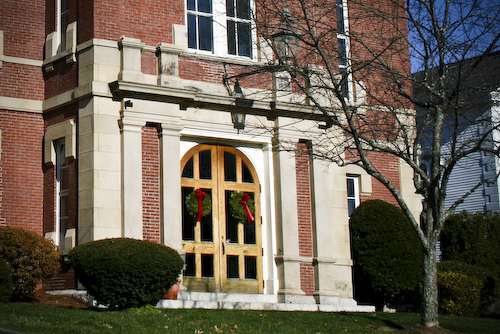 For decades, Southborough Gardeners have been decorating the town with wreaths for the holidays.
This year, they again hung wreaths all over town – on locations that included Town buildings and businesses on Main Street, the Veterans' Monument, the Senior Center, Cemetery, Cultural Arts Center, Police and Fire stations, and the Library.
They also hang them on businesses that help support the program through their donations.
The group asked me to share their thank you to the businesses that made it possible this holiday season.
(And I'd like to thank the Southborough Gardeners members for all of their efforts!)
The Southborough Gardeners would like to again thank the businesses that supported their annual efforts to spruce up downtown for the holidays:
Through your generous donations customers, visitors and neighbors alike are able to enjoy the festive feeling created by the decorative evergreen wreaths that adorn businesses, municipal buildings and monuments along Main Street in Southborough. Your contributions helped us continue this wonderful holiday tradition. We are truly grateful for your generous support.

Happy New Year!

– SOUTHBOROUGH GARDENERS
For more information on the Gardeners, check out their Facebook page.
Updated (12/17/18 8:50 am): The initial list of buildings included the DPW building under the name it's known to by some as the former Southville Fire Station. But a commenter pointed out that there isn't a wreath hanging on it.