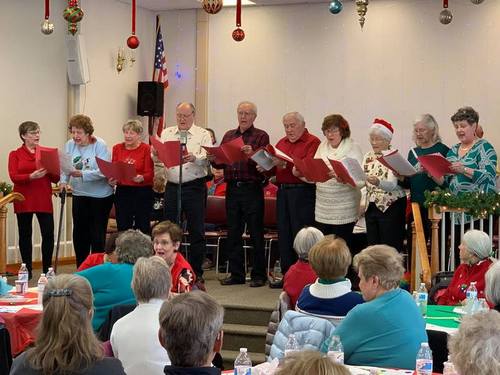 The Senior Center reached out to share some of their holiday cheer. Below are pictures from the holiday sing-a-long earlier this month.
But, what's a sing-a-long without sound? Fortunately, Southborough Access Media posted video from the sing-a-long luncheon. (Click here if you can't see the video below.)
At my prompting, the Senior Center happily sent along some more pics from other festivities. Here are photos from the Cookie Swap and Holiday Bingo.

The Center staff and volunteers weren't the only ones working to bring seniors in town some holiday cheer. This month, Pack 1 Cub Scouts decorated cookies to donate to the Senior Center (and to enjoy some themselves.)
The center passed the contributions and holiday spirit on to the seniors living in Colonial Gardens (the elderly/disabled housing apartment complex).
Updated (12/28/18 10:18 am): I just stumbled on an email from the Senior Center that I missed earlier this month. It shared photos from the Hanukkah buffet.