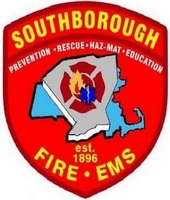 The town will be re-advertising for a replacement Fire Chief. As of a couple weeks ago, they also planned to keep two candidates in the running while they continued the search. The committee is not recommending any internal candidates as qualified for the job.
The decision and reasons were disclosed in minutes just posted today from a closed Board of Selectmen meeting on December 11th. And this afternoon, the Town issued a public announcement.
Selectmen were told that the Fire Department employees' indicated preference for the chief to come from outside. Search Committee Chair Malinowski suggested that the next chief have an employee development plan for a succession plan.
Out of 18 initial applicants, only six made it to the interview phase, five of them external. Two external candidates were recommended to be sent to an assessment center, but one is "with reservations". Malinowski advised that at least two candidates are needed order to run an effective assessment center.
Malinowski said that many candidates lacked management experience. The committee was also disappointed in apparent lack of research on the Town by candidates. Malinowski pointed to multiple open Chief positions in the state, as contributing to recruiting issues. Member Sam Stivers expressed concern that the Town's consultant had also been recruiting for another community.
Chief Joe Mauro's contract ends in March. But Town Administrator Mark Purple had already spoken to him about possibly staying on longer if the position is still unfilled. Today's announcement states:
We are expecting that this will add approximately a month to a month and a half to the original timeline for the process. While Chief Mauro still plans to retire on March 4th, he has agreed to consider staying on in an acting Chief role until his successor is appointed to ensure continuity and stability for the Department.
Prior to re-posting, selectmen will take another look at the job description. That is scheduled for their meeting on January 2nd. In the meantime, officials planned to speak with the recruiter about expectations and better advertising.
You can read more about the discussion in the minutes here. You can read the announcement here.
Updated (12/27/18 5:35 pm): I missed earlier that while I was working on the post (and battling tech issues) the Town sent out an announcement to update the public on the status of the search. I added in the reference, excerpt and link.