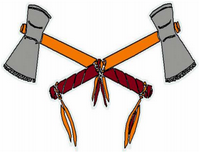 On Monday, I shared that two Algonquin teams were competing in tournaments that opened on Wednesday and Thursday. It's time for an update.
T-Hawks Hockey made headlines when it beat Hudson in the first round of the Metrowest Daily News Cup. Now they'll repeat last year's matchup for the finals, looking for a different outcome.
Wicked Local reports:
It was a good thing for Algonquin (5-0) that [Henry] Alford was able to battle through his illness and lace up his skates as he scored a power-play goal with about 14 minutes left in the third period in the Tomahawks' 3-2 win over Hudson (4-1) on Saturday evening in the annual Daily News Cup hockey tournament at New England Sports Center. . .

The Tomahawks now face Hopkinton, in a rematch of last year's Daily News Cup Final in which Algonquin fell 3-1.

"That was a rough game," [senior captain Nolan ] Kimball said. "We weren't really prepared going into that game, but this year we have a different mindset and we just feel really good about our chances.

"All four years, haven't been able to bring it home. But we are definitely going to bring it home this year, no doubt about that."
The Boys tweeted:
👀THAWKS WIN👀:
Dirty boge and the boys take home the win 3-2 over Hudson. Daily news cup finals on Saturday @THawkTweets be loud and ready 🔥🔥😤 pic.twitter.com/3MwbIyhwHa

— Algonquin Hockey (@GonkHockey) December 27, 2018
Click here for the full Wicked Local story and photo highlights from Wednesday's game. To see the boys play, head to the New England Sports Center on Saturday night for the 7:30 pm championship game.
Gonk Wrestling competed in the George Bossi Lowell Holiday Wrestling Tournament yesterday. Some of the team members are back on the mats today. Team captains Shea Garard and Andrew Goddard qualified for the Quarter Finals. And the team tweeted that "Alex Cheney, Andre Hird, John Fontecchio, James Mahoney and Eric Hanson are still battling in their consie brackets."
You can check for more details and live results on the tournament website. Or look for updates from the team on twitter here.