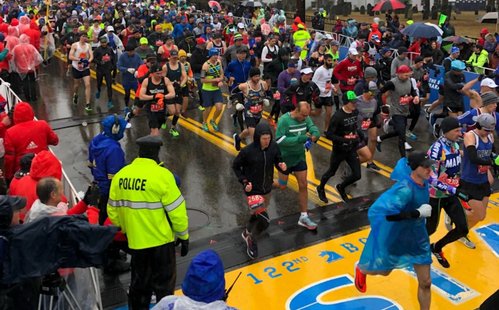 Monday is Patriot's Day. That means, once again, a pack of Southborough runners are headed to Hopkinton. Twenty residents (8 women and 12 men) are running in the 2019 Boston Marathon.
It's New England, so the forecast is hardly set in stone for an event that's days away. But for the second year running, predicted rain may make a certain hill particularly heartbreaking.
(May the wind be at their back and the rain minimal!)
Here's the complete list of who's registered for the challenge. (For those raising funds, I included information with links to their blog stories and direct links to fundraising pages.)
Please join me in wishing the following residents the best on their 26.2-mile trek.
Tim Daloisio, Bib # 28444, (wave/corral 4/5): Raising funds for ALS ONE (fundraising page)
Varavani Dwarki, Bib # 29801, (wave/corral 4/6): Raising funds for National Organization for Rare Disorders, Inc. (fundraising page)
Yun Gao, Bib # 11453, (wave/corral 2/4)
Amanda Gleeson, Bib # 19866, (wave/corral 3/4)
Danielle Goodwin, Bib # 29426, (wave/corral 4/6): Raising funds for WhyNotDevin Foundation (fundraising page)
Nancy Gould, Bib # 25383, (wave/corral 4/2): Raising funds for Dana-Farber Cancer Institute – see email (fundraising page)
Chuck Hagedorn, Bib # 29741, (wave/corral 4/6)
Stephanie Iodice, Bib # 25357, (wave/corral 4/2): Raising funds for Dana-Farber Cancer Institute – see email (fundraising page)
Pauline Lyons, Bib # 29512, (wave/corral 4/6)
Sean McCarthy, Bib # 29714, (wave/corral 4/6): Raising funds for Blue H.E.L.P. (Honor.Educate.Lead.Prevent) – see email (fundraising page)
Jeremy Mcdowell, Bib # 30067, (wave/corral 4/7): Raising funds for The Claddagh Fund (fundraising page)
Elise Morgan, Bib # 13745, (wave/corral 2/6)
Amy O'leary, Bib # 22211, (wave/corral 3/7)
Edward Pearson, Bib # 26829, (wave/corral 4/3): Raising funds for New England Center for Children (fundraising page)
Nathan Rhind, Bib # 26070, (wave/corral 4/3): Raising funds for Michael Lisnow Respite Center (fundraising page)
Kevin Ryan, Bib # 3195, (wave/corral 1/4)
Michael Saltis, Bib # 25608, (wave/corral 4/2): Raising funds for Dana-Farber Cancer Institute (fundraising page)
Ryan Shea, Bib # 25619, (wave/corral 4/2): Raising funds for Dana-Farber Cancer Institute (fundraising page)
Edward Sullivan, Bib # 13562, (wave/corral 2/6)
Melinda Thacker, Bib # 19015, (wave/corral 3/4)