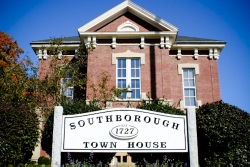 Here is a selection of the committee and board meetings for the week along with my selected highlights from the agendas. Note that it's a light schedule over spring break (as of this morning).
All these meetings are open to the public, so you're welcome to stop on by.
Be aware that changes to the meeting schedule are known to happen throughout the week. For an updated list of meetings, visit the town website.
Tuesday, April 16, 2019
Board of Assessors, 9:00 am @ Hearing Room, Town House, 17 Common St (agenda) Agenda Highlights: Review and act on Finance Director's request to abate FY16 uncollectable personal property taxes
Wednesday, April 17, 2019
Council on Aging, 1:00 pm @ Cordaville Hall, Director's Office, 9 Cordaville Rd (agenda) Agenda Highlights: Discuss preparation of a report to the Town Master Plan Committee on vision for the Senior Center in the coming 10 years
Thursday, April 18, 2019
Conservation Commission, 7:00 pm @ Hearing Room, Town House, 17 Common St (agenda) Agenda Highlights: Public hearings on 13 Foley Dr pool, Depietri Fields regrading of soccer field plus loam and seed, Woodward school driveway and parking lot, 10 Turnpike Rd redevelopment and building expansion, and 17 White Bagley Rd house construction; Certificate of Compliance request for St. Mark's solar field; and update of 229 Parkerville Rd complaints