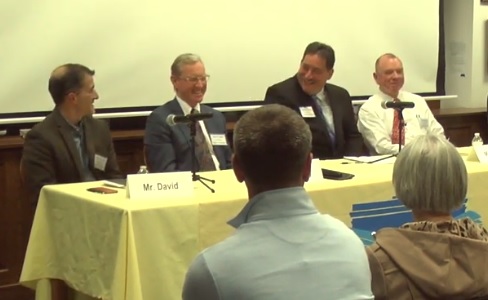 One week ago, candidates vying for two seats on ther board of selectmen addressed voters and answered questions. The four men were asked for their positions on investing in "healthy" school start times, increasing PILOT contributions from non-profits, single vs split tax rates, working to improve downtown, open space, and handling of the Park Central development.
In their statements and answers, three of the candidates made much of their long experience in public service including as chairs of Town committees. One positioned himself as a fresh face to town government. That also put him in the hot seat.
Joe Hubley claimed the longest public service of all the candidates – most of his life. In addition to years on committees including chairing the Historical Commission, he was referring to his 37 years as a Southborough firefighter. Marty Healey talked up his experience as a federal prosecutor fighting corruption as well as his accomplishments as a chair on committees including the Main St Design Working Group and Advisory. Sam Stivers referred to his dedicated involvement in town government not just by long service on several committees but also regularly attending other committees' meetings to stay informed.
In contrast, Steven David was questioned about running for the Town's important board without having put in any time on other committees. His response was that he brings a fresh perspective, with business experience and no affiliations.
A new face to many who have long followed Town politics, David was the one candidate directly grilled by residents in Q&A. He fielded questions about his commitment to service, placement of signs on a controversial property, and a choice to abstain from voting on an Article at Town Meeting. The candidate appeared to reveal a gap in knowledge on one issue when he raised the possibility of developing part of the golf course for businesses and residences if it is unsuccessful. (A Conservation Restriction adopted by Town Meeting prevents that.) His final pitch was that deteriorating civility and increased divisiveness in Town government is reason for bringing in his new voice vs "business as usual".
As I do every year, I struggled with how to fairly recap/summarize the long night. (What issues are important enough to cover? Whose quotes to use?) I finally opted to recap from start to end. It's long – but in sections allowing you to skim to the topics you care about.
Throughout, I've embedded links to portions of the video to let you hear the candidates' own words. (Thank you Southborough Access Media. I actually encourage you to watch the whole thing instead of reading my notes. But I know many of you won't take the 1 hr and 45 min to do that!)
Opening statements
Steven David
He spoke about his success as a marketing professional for well known brands, currently overseeing marketing for Clark Shoes' $900M America's division (US, Canada & Latin America). He's lived in town for 15 years with his wife and son. He has coached for years and served on the Lacrosse Association board. Before running out of time, he shared that one of his reasons for running was to focus on building our "entire community". (Links to opening and closing statements)
Marty Healey
He spoke about his job as a prosecutor for 35 years, including as a federal prosecutor, and now overseeing securities enforcement litigation in New England. He's lived in town with his wife since 1991 and raised 4 kids here. He began serving on the Personnel Board in 1992 for four years then on Advisory for about 10 years and as chair for 7. After a hiatus he returned to service, chairing the Main St Design Working Group. He spoke about the tension between the services and capital infrastructure you want to provide and the resources you have from taxpayers. He said there are challenges ahead he thinks he's well positioned to take on. He said he wants to manage growth. He finished with his background prosecuting corruption/conflicts of interest and said that open, transparent government is "A1 to me". (Links to opening and closing statements)
Joe Hubley
He spoke about being a 3rd generation town resident, former Southborough firefighter from 1978 until he retired as Captain in 2015. He now works for the state as a labor dispute mediator between municipalities and police/fire dept unions. He served for many years on the Community Preservation Committee, the Housing Authority, and is current chair of the Historical Commission. He spoke of love for Southborough's traditional hometown feel, great schools, conservation land, and open town meeting. He noted recent problems with transparency and decisions made without input from relevant boards/committees. He pointed to 52 vacancies on town committees and opined that more people would participate if they felt their opinions were valued by selectmen. He said he would listen to voters, seek input from committees and implement decisions with consensus and compromise. He promised to pursue giving voters a say in disposition of remaining agricultural lands, options for delayed school start times, private/public partnership for a community center, increased contributions from private schools, cleanup of fallen trees on DCR land along reservoirs and roadsides, and hold monthly office hours. (Links to opening and closing statements)
Sam Stivers
He listed his service for the town over the past 15 years, currently on the Public Works Planning Board and Master Plan Committee, and previously on Advisory Committee, Zoning Board of Appeals, Zoning Advisory Committee, Fire Chief Screening Committee, and Golf Course Master Plan Committee. He spoke about having attended 2-3 committee meetings per week to stay informed, giving him a detailed understanding of what's happening in town across all departments. He said he's been a teacher, business strategy consultant, manager in health care companies, and involved in running companies bigger than the Town's annual budget. He noted challenges with rising taxes, managing ever increasing expenses, finding new sources of funding, maintaining rural character and open spaces, and more issues. He spoke about balancing competing pressures and interests requires effective town government. He referred voters to read the 50 endorsements by knowledgeable and capable people including many who had served with him. He said he would show up for work, do his homework, and remain independent, impartial, and free of conflicts. (Links to opening and closing statements)
During the Q&A portion, candidates responded to questions on the following issues:
School Start times – With the likelihood that a change to "Healthy" school start times (i.e. later start for high school students) doesn't have a no-cost-solution, would you be willing to spend additional funds on transportation?
David said that a deeper conversation was needed before deciding about making a change. He said he believed there had been "a number of studies on both sides" of the issue. He referred to staggered buses meaning changes to high school start time would impact lower schools and families and noted that it would also end school later.
Healey said that input from community is needed before a big change. That being said, the start time that had his kids leaving for school at 5:45 am was "just crazy". He followed that you need to see how much money would be required and have a discussion. But his bottom line was school time for high school should be later.
Hubley said he agreed with later start times but thinks it should wait to see what results from trials at other nearby schools. He recalled seeing his girls falling asleep outside in the rain waiting for a bus. But he also said that as parents we need to tell kids still on devices at 10pm – "help us help you". But if majority of folks want it, he would be in favor of funding it.
Stivers said he supported the concept – but from a practical standpoint, the school committee needs to decide. He did say that the municipal government and school committee/administration need to work more closely together going forward. He recalled the cost for additional buses as a couple hundred thousand dollars, so a major commitment. He noted that there are other impacts as mentioned, but the school committee has to make the decision and they've been struggling with it for years.
Commitment to serving as selectmen – (This was addressed to David, based on his lack of past service and having quickly quit Advisory* but Moderator Betsy Rosenbloom allowed the other candidates to follow with their thoughts.)
David explained he was unable to attend meeting for the Town Meeting Review Committee because the group opted to hold morning/daytime sessions. He followed that he resigned from Advisory* based on behavior of others on the panel. He said that some members' acrimony and disrespect to the chair and other members didn't work for him. He claimed some were going off topic and agenda and being unruly towards each other while others worked on their phones. Later, he followed that he would bring fresh perspective, innovative ideas and proven track record in business including using strategy to turn around failing brands. He said he keeps hearing from disengaged residents that they want someone to bring a new, open point of view. He doesn't affiliate with any particular group or individuals.
Healey said that he believed experience is important. He pointed out his history of being elected chair of committees – Personnel Board, Advisory and Main St Design Working Group. He believed it was because of leadership abilities. He said the challenges the Town has coming require leadership and vision. He said the Main St group took a dying project and he's proud that it's going to be beautiful in a couple of years. He said that he didn't just serve on committees, but also accomplished things for the Town.
Hubley said that you do have to have served to at least have institutional knowledge and know how government works. He referred to issues in the "bigger government" as an example of "what happens when you're not familiar with how government runs." He said he's been part of the government almost all his life.
Stivers echoed that leadership is important and pointed to experience as chair on Zoning Board of Appeals.
PILOT (Payment in Lieu of Taxes) contributions from non-profits – How did you vote on Article 35 at Town Meeting and do you support seeking fair contributions from non-profit private schools in town?
As I shared on Monday, Wicked Local already covered responses on this issue. But it left out the following responses on the votes at Town Meeting:
Stivers – Voted Yes
Hubley – Voted Yes
Healey – Absent (He said that was the first time he missed Town Meeting since he'd lived in Southborough. He traveled to the UK to watch his son play in the National Lacrosse Championship.)
David – Abstained
Property Taxes – Will you vote to continue the single tax rate or look for a better solution – a split tax rate that is higher rate for commercial and lower for residential properties?
None supported changing to a split rate:
Healey said his research showed less than a third of towns/cities in the state have a dual tax rate. He followed that most are very different than Southborough – cities with large commercial tax rates. Our neighbors have single rates. And we have a ton of small "mom & pop" businesses. A dual rate would adversely effect them and their consumers.
David said that he agreed with Healey and believed it would push businesses out of town. He said that he believed that we need to do more to court larger commercial partners for spaces along route 9 and they can bring considerable tax revenues. He said that small businesses in town are already struggling.
Stivers said he wouldn't support it now but wouldn't take it off the table. He said it's a complex issue. He said he wants to see what happens in the next couple of years
Hubley said that he doesn't support. But if someone comes to him about why we need it, he'll be all ears.
Political sign placement – What does the placement of your signs say about you? (Once again, David was specifically called out with a question about his ability to pursue enforcement actions for a property where his signs are placed** but others were also invited to comment on what their signs say.)
David said that part of his focus on community development is economic development. He said that commercial properties, town builders, etc., reached out and had conversations with him about their need to move things forward in a thoughtful way. "Is there baggage with that? Of course there is. Do I support every initiative that the buildings you are talking about are involved in? I certainly do not." But there is a lot of good work to be done on that front and he's interested in moving that forward while being thoughtful about how we're doing it. He said he doesn't think it's his position now "to go deep on" who's bystepping the law.
Healey said that his signs mean that some people were nice enough to answer the phone when he called and others didn't. He referred to having called people he's met over the years and around town.
Hubley said signs don't vote. He gets that some people will look at the individual and think about who is endorsing. He said that his are mostly on residential but also a few commercial.
Stivers agreed that signs don't necessarily vote but said they are a good indication. He said he's found it hard to get a sign in a yard from someone who's not going to vote for him. He followed that his signs show that he has strong support in all parts of town.
Town Manager legislation – The moderator asked her own question. She referred to Selectman Dan Kolenda's plan to bring a previously failed initiative back to Town Meeting – moving from a Town Administrator to a Town Manager. She asked if they were in favor.
All said they opposed the change:
Stivers said he believed that selectmen need to be actively involved rather than having a Town Manager run the show. He said that it takes people paying the taxes to make sure you're getting good value for it.
Hubley said he believed the Master Plan Committee was looking at that and would like to hear their report. (Later, Stivers noted as a member of the Master Plan Committee that the issue isn't currently on the agenda, but perhaps it will be.) But he said that last time he didn't support it. He said if selectmen hand work to the Town Administrator, it will make their job easier but it's certainly going to increase the work of the TA.
Healey said that he opposes since a Town Manager isn't elected. He said that Town Meeting is "terrific" even if "messy at times", it's "democracy in its purest form". He said that a Town Manager would be unaccountable. He opined that they are often adopted because it makes it "easier to point at the other guy". He followed that he thinks TA Mark Purple has been doing a good job, but the buck should stop with selectmen.
David said he agreed with them. He said that as the town grows and in 5-10 years "we're looking at 30% more population", I do think we have to keep the conversation on the table.
Downtown Initiative – Would you potentially supporting funding and/or zoning changes to help improve the downtown area?
As I shared on Monday, Wicked Local already covered responses on this issue.
Open Space – Can you give specific examples of things you have done or would like to do to protect Open Space in town?
David said that we've protected a lot of Open Space. He said that he's eager to learn about the transition with the golf course. He posited the Town may have made a rash decision. He clarified that he'd like to see the golf course be successful. But if it isn't, he could envision bringing businesses and residential into that tract while also protecting some open space. [Editor's Note: As I previously stated, a Conservation Restriction passed by Town Meeting disallows that possibility.]
Healey said that ever dwindling but ever vigilantly protected open space is a battle. You've got private property, developers looking to make money, and there's not a lot of open space left. But he said that the Town has fought some battles and won a lot of them. He opined that one of the smartest things that Southborough did was become an early adopter of the Community Preservation Act which gives us ability to pay for open space – like we did with the Golf Course.
Hubley said he has advocated a long time for preservation and open space. He said his biggest issue was when every town committee advised saving a 61A parcel, selectmen ignored that and didn't bring the option to voters. He thanked Brendan Homes for saving the barn, which was dismantled and taken by "the Trustees" to be put somewhere else. He acknowledged we can't save every parcel, but they need to be watched and we have to put money aside for priority parcels. He asserted the first answer from selectmen can't be no – the people have the right to vote on that.
Stivers said there is great opportunity to do more planning around this. He was happy with work being done by trails committee to connect open spaces. He advocated for looking into pedestrian causeways across Route 9 to do more to connect sides of town. He noted his frustration that the 2008 Master Plan had 250 objectives and 125 implementation steps and only a handful were accomplished. He said we need prioritization and focus to get things done.
Park Central – Referring to the controversial development – What his your take on what has happened and what BOS role' should be going forward?
All candidates declined to get mired in how we got where we are and instead focus on the future:
Stivers referred to a prior selectmen vote to close off Park Central access to Flagg Road. [Editor's Note: Selectmen specified that was unless the developer or state come up with a plan to solve access/egress issues.] He said that he doesn't support the development plan as currently proposed but would be open to looking at new plans when submitted. He followed that they need to do whatever they can to protect public safety on the roads where people walk and bike.
Hubley said he agreed. He said that he would not allow that kind of traffic onto Flagg Road. That means if the development goes through, putting the traffic somewhere else, maybe a light on Rte 9.
Healey said that he dug into the dockets for the lawsuits and thinks they will be tied up for a while. He asserted that the board has tools they can use to protect safety. He opined the state hasn't been cooperative. If the development was going to be built you had to take into account where the cars would go and it seems like the state didn't do that. He finished that there are fights to be had and he likes to fight.
David said that going forward we need more input and tighter guidelines to how those projects get approved with more people involved. He spoke of the need to do the best we can do with the state to make sure the traffic flow is equitable and neighborhoods are not damaged by increased traffic. He advocated that infrastructure should be addressed before development.
The one thing that puts you apart? – Once again, David was called out specifically with a criticism of his earlier statement that he "abstained" from voting on Town Meeting vote** and concern about the learning curve for someone who hasn't served on a committee. But the question was wrapped up with a general question to all of the candidates.
David said that he brings a fresh point of view and is not affiliated with deep rooted division. He said that families he's spoken with are tired of business as usual. He acknowledged that many on committees do phenomenal job but followed that tenor and tone of meetings has deteriorated. He assured he can work across different groups and bring in innovation and forward thinking.
Healey stressed his ability to not take himself seriously, though he takes what he does very seriously. He said that when the Main St Working Group was formed there was a lot of tension over the project. But it was diffused, not just because of laughter, but because people realized that they could go to meetings and be eager participants very easily. He said it's not a hypothetical or a promise, he has a track record of doing that. He said with him, meetings would be a lot more fun but a lot would get done.
Hubley focused on consensus and compromise. He said he has a good understanding of how things work. He followed that in his job as mediator bringing people together is what he does. (Showing off his own humor, he dug at neighbor Healey, "When we can get the lawyers out of the room.")
Stivers focused on longer term thinking and planning. He opined that they should be thinking 20-30 years out what is needed, such as senior center, community center. If you have a plan and start looking, you have much greater chance of getting things done.
*Advisory Committee member Kathy Cook asked about David running for the big seat when his only experience on Town boards was a committee he didn't attend meetings to and Advisory where he quit after only attending a couple of meetings. [In December 2017, he attended one joint meeting held by selectmen and one Advisory meeting.]
**Kelly Roney asked what David's sign placements at "controversial" 9 properties on Route 9 – especially at the Crossings where a developer was found to have violated an order of conditions – says about him and does it impact his enforcement ability.
***Claire Reynolds was referencing David's earlier response that he abstained on the PILOT Article question.