The interfaith group "Neighbors for Peace" is holding its 4th annual Iftar dinner for the community. This year's celebration is on Saturday, May 25th at 7:30 pm.
You don't need to cook up a contribution. A free dinner will be provided. That doesn't mean come empty handed. Organizers are asking for contributions to the food pantry.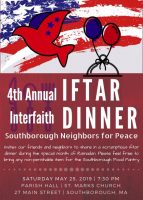 As usual, the gathering will take place in the Parish Hall of St. Mark's Episcopal Church at 27 Main Street.
Here is the invitation:
Southborough Neighbors for Peace invite our friends and neighbors to share in a scrumptious Iftar Dinner during the special month of Ramadan; please feel free to share the word with your friends and neighbors.We will meet in the Parish Hall at St Marks Church in Southborough.

As part of this event, we are also collecting non-perishable items for the Southborough Food Pantry; you may bring in items to give to the pantry. Please reach out if you have any questions and we look forward to sharing a meal with all of you :)