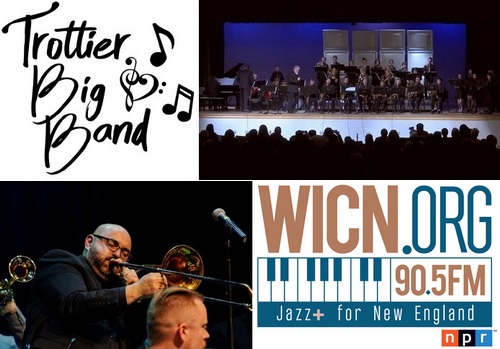 Trottier's Big Band is inviting the community to enjoy two special events.
You won't have to leave home to hear the first one. But you don't have to stay home either. You can enjoy their music wherever you can get reception.
This Saturday, June 8th, Band Leader Jamie Clark will join WICN host Howard Caplan sometime during his 8:00 am – noon show "The Saturday Swing Session" on 90.5 FM. He'll talk to Caplan about the band and help introduce pre-recorded performances by the band.
So, tune in. Or, if radio is too archaic for you, you can stream the show via WICN.org.
Then follow up by showing up at the school on Tuersday night, June 11th to see them perform live a their annual Evening of Jazz:
Trottier Middle School's Big Band will perform at their annual event, An Evening of Jazz, on Tuesday, June 11th at 7:00pm. The Trottier Big Band has worked hard all year and will perform an entire evening of jazz songs that showcase their talents. The Trottier Big Band has been a Gold Medal Recipient from 2008-2019 from the Massachusetts Association of Jazz Educators and 7-time winners of the Clark Terry/UNH Jazz Festival. . .

Please come to An Evening of Jazz with the Trottier Middle School Band on Tuesday, June 11th at 7:00 pm at the Trottier Middle School Auditorium.
As in past years, the concert is free, but voluntary donations to a cause will be collected at the door. Funds will also be raised through refreshment sales. This year, the band is raising money for its own needs. Organizers explain:
Donations will be used by the Big Band to supplement transportation costs and to purchase new equipment. The Big Band is remarkably well supported by the town and the school and it is greatly appreciated. However, transportation costs have risen dramatically, and the amount of performances given by the Big Band have taken a toll on the equipment.
At the live concert, they will be accompanied by special guest, Brian Thomas. Thomas is a trombonist, composer, educator and leader of the BT ALC Big Band. He'll work with the students next week to prepare for that evening's special performance. A press release promotes:
Brian Thomas has been a member of the Boston music scene since graduating from Ithaca College in 1998. He gained much of his "post graduate" music experience at the legendary Wally's Jazz Cafe hosting the weekly funk jam session and touring with reggae giants John Brown's Body.

Thomas earned a masters degree in Jazz Composition from UMASS Amherst where he met trumpet player and fellow composer Alex Lee-Clark. Together they formed the BT ALC Big Band and began to bring their brand of big band funk to listeners and dance floors. By taking the tradition of the big bands of Duke Ellington, Count Basie, and Thad Jones and infusing it with funk music of their idles like Parliament Funkadelic, The Meters, James Brown and many more, they have created a sound that pushes the art of big band forward, while still being pure entertainment for both the band and the audience.

Teaching and sharing his musical experiences has always been a passion for Thomas. He is currently a faculty member at Canton High School in Canton, MA and directs all of the instrumental ensembles including the Band, Orchestra, Jazz Ensemble and Pit Orchestra.