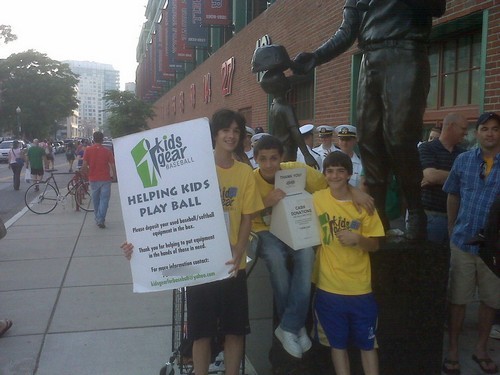 A non-profit based in town is asking for help with their collection and fundraising drive this weekend. But the drive won't be taking place in Southborough. You'll need to head to Fenway for games this Friday through Sunday.
The organization asked me to share their pitch with readers:
KidsGear for Baseball is a non profit organization that helps to ensure less fortunate children in the Greater Boston and surrounding communities have the equipment they need to enjoy playing the great game of baseball.

Each year KidsGear receives a donation from the MLB Baseball Tomorrow Fund and is also assigned a weekend to collect donations at Fenway Park before Red Sox baseball games.

This year, Kids Gear for Baseball will be collecting new and used baseball gear along with cash donations at Fenway Park on June 7th, June 8th, and June 9th (Friday, Saturday, and Sunday). We will meet approximately 2 hours before each game at Gate D to get our collection organized and start collecting donations.

Since we need volunteers at every gate, we are always looking for people to help and would like to invite any families or individuals who would like to join us. Any help would be greatly appreciated. This is a major weekend for raising funds for our organization!

Here is the schedule:

Friday's game is at 7:10 pm and we will meet at Gate D at 4:45 pm

Saturday's game is at 1:05 pm and we will meet at Gate D at 10:45 pm

Sunday's game is at 1:05 pm and will meet at Gate D at 10:45 am

We will collect baseball gear and donations until the end of the first inning and then go into the game. Everyone who volunteers receives general admission passes and can stay for the remainder of the game. This is always a fun way to help others and take in a Red Sox game. Use the following link to sign up for one of the games.
To sign up to help, click here.
For more information about KidsGear, click here. If you have any questions, you can email weddingblizzard@gmail.com.