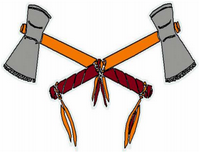 Since I last posted on the post-season, Algonquin's Tennis teams earned more big wins. Plus more details are out on scheduled playoffs for ARHS Lacrosse, Baseball, and Rugby.
On Monday, I mistakenly listed Boys Tennis as heading to Quarter Finals yesterday after bypassing the First Round. Since there tourney had no "First Round", their BYE put them straight into the sectional Semi-Finals yesterday afternoon. They trounced Westborough 5-0.
They'll play 2nd seed Shrewsbury (who they beat last month) in the Finals at 3:00 pm this Monday, June 10th on St. John's courts. The Gonk Girls will hope to be there for the game that follows.
Girls Tennis did play in Quarter Finals yesterday. They dominated Nashoba 4-1. Our topseed team will hold court against 5th seed Wachusett in the semi-finals tomorrow, June 7th at 3:00 pm. With an undefeated record (including 2 earlier matches against Washusett), they have good odds of moving on to the Finals. That game would be at St Johns on the 10th at 4:30 pm.
The details for Lacrosse's Quarter Finals have been posted. You can head to Algonquin to cheer on the teams on their home fields this week. Gonk's topseed Boys will play 8th seed Westfield at 5:00 pm tonight. It's a team they already bested 16-7 last month. The 3rd seed Girls will play 6th seed West Springfield (for the first time this year) at 5:00 pm tomorrow.
Baseball brackets have been posted. The T-Hawk Boys earned 3rd seed and will bypass the first round of sectionals. They'll play in the Quarter Finals at 4:00 pm at home on Monday. Their competition is still TBD.
ARHS Girls Rugby earned a BYE on their Quarter Finals. The 4th seed Girls will head to Lincoln-Sudbury to take on the topseed team in the Semi-Finals. That's scheduled for Wednesday, June 12th at 4:00 pm.
Boys Rugby is done for the year. The team didn't make the post-season cut.
Have a photo of your favorite team in action to share? Email mysouthborough@gmail.com.