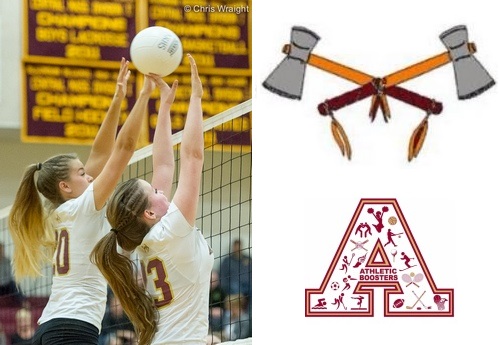 Yesterday, I posted about camps offered through Southborough Rec this summer. Of course, they're not the only game around.
This summer, Algonquin Girls Volleyball team will hold another summer camp, plus a pre-season clinic for returning players.
The varsity players will coach an All Skills Camp for girls entering grades 6-9. That will take place from 9:00 am – noon, August 12th – 15th in the school's gym:
This camp is designed to introduce girls of all skill levels, to the competitive game of volleyball.

Through this clinic girls will learn skills, positions, strategy, and teamwork all while having fun and meeting the Algonquin Volleyball team and other girls interested in the sport. No special equipment needed, a court type shoe is recommended and knee pads are completely optional. Be sure to bring plenty of water.
The morning camp for soon to be 6th-9th graders will cost $125 per player with a $50 discount per sibling. The payment covers all clinic fees and a T-shirt. Proceeds will benefit the ARHS Volleyball Boosters Club. (And, of course, the Boosters will support the team's needs.)
The deadline to register is July 27th, but don't wait. Organizers clarify that registration is limited and filled on a first come, first serve basis. (Although, if it isn't full by the deadline, they also note they may take late registrants. But those participants can't be promised to receive a T-shirt.)
The team will also hold an overlapping, later pre-season clinic on the same days as the camp. While the flyer refers to it as for girls soon to be 10th and 11th graders, the website indicates that it's only for girls returning to the team, including seniors. That clinic from will run from 11:30 am – 1:00 pm and only costs $50 per participant.
For details, visit the website. You can register there online, or you can use this pdf mail-in form.
If you have questions, email arhsvball@gmail.com.