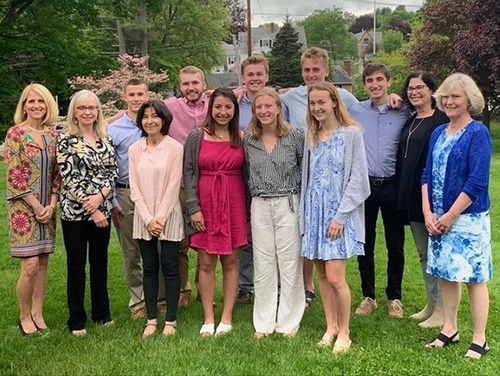 This spring, I shared news on scholarship opportunities in town. Now, I'm following up to find out who snagged the awards. I heard back from two of the organizations, about awards to ten Southborough students.
The Southborough Gardeners Club shared that their scholarship this year was awarded to resident Zoe Murphy. Murphy will be attending UMass in the fall to study environmental science.
The Town of Southborough's Scholarship Committee made awards to nine students in town this year.
The recipients include: Megan Christy, Nicholas Gingrich, Elissa Gorman, Colin Hartnett, Brendan Hermanspan, Elsa Ray, Nathan Rhind, Mitchell Schaffer, and Alexander Simon.
Here's the Town's announcement:
The Southborough Town Scholarship Committee proudly honored nine talented and deserving students during their scholarship award ceremony on Thursday, May 23, 2019 at the Southborough Community House. After a warm and sincere welcome from Christine Johnson, Superintendent of Schools, who shared her connection to this year's graduating class, each student received their scholarship from Mary O'Brien, Scholarship Committee Chairperson. Newly elected Selectman, Martin Healey, also personally congratulated each recipient.

Following the ceremony, family and gathered for refreshments and conversation.

Southborough Town Scholarships take into consideration academics, financial need, extracurricular activities, work and volunteer experiences, as well as written expression.

Town Scholarships are funded primarily by donations highlighted on our property tax bills. As many now pay their tax bills online or through automatic payment plans, donations have fallen off. Please consider checking the box on your tax form to help support the fund. Every few dollars make a difference to an aspiring student's college experience.

We welcome corporate and individual contributions directly. Please contact maryanddan6@verizon.com if you're interested in learning more and/or supporting the Fund.
You can find more information on Town Scholarships here.
Congratulations to the ten students.
Updated (6/14/19: 8:39 am): I initially posted the "recipients are", but it was followed by the eight names in the submitted photo caption. It appears that I'm missing information on the ninth recipient, so I changed it to "include" for now.
Updated (6/17/19: 6:30 am): I just learned that the missing recipient from the Town Scholarship Committee's announcement was Brendan Hermanspan, who had been unable to attend the ceremony.