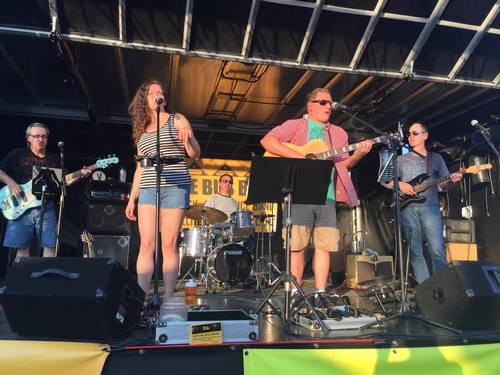 The Southborough Rotary Club and Youth and Family Services deserve a big shout out for the fun community event they put on this week.
Combining with the last night of Rotary's Food Truck Festival was a great launch for Southborough's free Summer Concert Series. The concert drew in a large crowd on a beautiful night.
I managed to capture a glimpse to share on my cell phone before it died. Here's the Midtown Horns playing to the crowd at St. Mark's Meadow:
I'm hoping the crowd follows the concert series over to its regular summer venue the week after next. So, I'm reminding you to mark your calendars.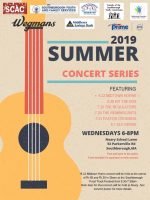 For the rest of the summer, the concerts will be held biweekly* on the outdoor stage on the Neary School field.
They'll take place Wednesdays from 6:00 – 8:00 pm.
Next up is the return of Hit the Bus on June 26th.*
The band describes itself as playing "eclectic mix of music ranging from the 50's to Today." You can get a taste of that via SAM's video of them playing in the 2015 series at the bottom of this post.
The remaining schedule for the 7th season is*:
July 10 – The Regulators (playing classics of Soul, R&B and Rock)
July 24 – The Reminisants (playing oldies from the 50s through 90s)
July 31 – Paxton Crossing (playing a variety of genres)
August 7 – Slo Grass (playing acoustic Americana bluegrass)
You will again be able to purchase dinner and/or a treat at the concerts this summer. Food vendors will be on site (just not as many as were at the Rotary's festival.)
Don't forget to bring your own blankets and/or chairs to the field. (And maybe some bug spray.)
Now, here's Southborough Access Media's video of Hit the Bus at Neary four summers ago.
*Note: Each concert's rain date is the following Wednesday. To check for postponement, call 508-485-0710 ext 8 on the day of the scheduled concert. (Although, when I'm aware of a cancellation, I'll be sure to post the news.)