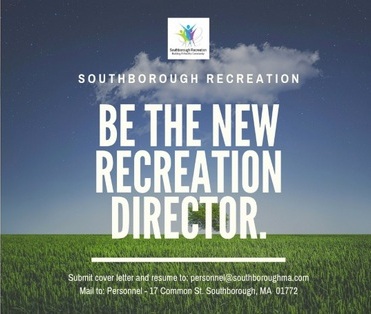 As I shared last fall, Southborough Recreation Director Doreen Ferguson is retiring this summer. This week, the Board of Selectmen appointed her replacement.
On Tuesday night, Selectmen approved the hire of Tim Davis as Recreation Director. Davis, a Millis resident, currently works as the Rec Director for the Town of Stoughton.** He holds a Masters in Recreation. He told the board that he loves the field and his job:
I don't see it as a job. I think I'm very lucky to be able to call this a career. . .
As is usual when the Town recruits a replacement for a significant job, the Town revised the job description. (You can see that here.*)
Davis said the more he had looked into the position, department, the direction the Rec Commission was looking to go, the direction of Rec and Town capital projects, he found it "overwhelmingly appealing".
Selectmen were enthusiastic, though Marty Healey noted that Davis had "big shoes to fill" since Ferguson had "served the Town well for quite a while." Selectwoman Lisa Braccio said she the board is excited by
a whole new direction for our Recreation. You've got a good commission to work with.
The discussion on Tuesday wasn't an interview. The hiring approval was on the board's consent agenda, as it was a ratification of the selection made by the Recreation Commission and Town Administrator Mark Purple. That followed finalists having met with the Recreation Commission, Recreation staff and DPW staff. The Chair of Recreation and Purple conducted final interviews. According to commission minutes, Davis verbally accepted Purple's verbal job offer earlier this month.
*The Rec Director Job description I posted is the Personnel Board's revised version that, according to Rec Commission minutes, was approved earlier this month. It is primarily the same as the one posted for recruiting. The redlines show the changes to physical requirements based on state guidelines.
**Updated (6/24/19 10:20 am): It appears that Ferguson won't be extending her job past the June 30th retirement date. Instead, judging by the Recreation Commission's posted agenda for tonight, they have other plans for handling a gap until Davis starts in late July.