Rounding up some more resident news. The only thing the stories below really have in common, is that they're stories that felt right to share on a Feelgood Friday.
Three time Pan-Mass Challenge rider honored at Fenway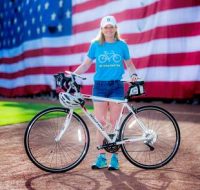 Last week, cancer patients and survivors were honored during Pan-Mass Challenge (PMC) Night at Fenway Park. That included three-time PMC rider, Southborough's Kendra Frary.
The pre-game ceremony took place before Red Sox played the Rays on Friday night. PMC shared the news:
On Friday, June 7, Kendra Frary of Southborough was among those honored during Pan-Mass Challenge (PMC) Night at Fenway Park. In a special pre-game ceremony, dozens of local cancer patients and survivors, Living Proof of the PMC mission to one day eradicate cancer, rode in a parade around the warning track before the Red Sox unveiled this year's PMC fundraising goal of $60 million on the famed Green Monster. The 40th PMC will take place on August 3 and 4, 2019 and donates 100 percent of every rider-raised dollar to support cancer research and treatment at Dana-Farber Cancer Institute. . .

Red Sox Nation cheered on these Living Proof PMC riders as they rode in a special parade around the warning track, followed by the official reveal of this year's PMC logo on the famed Green Monster. PMC Pedal Partners, pediatric cancer patients at the Jimmy Fund Clinic, acted as bat boys and girls and served as the official Play Ball Kid to kick off the game.
Girl Scout Leaders recognized
Two Southborough Girl Scout leaders residents were among those recently honored for their volunteer work by the Girl Scouts of Eastern MA. Carole Saunders earned a 15-Year Sustained Service Award. GSEM also presented Jeanine Hinterneder with a USA Appreciation Pin for her service. For more details, see the Community Advocate story here.
Click images below to enlarge their pictures from the event from GSEM's Facebook page:
Big Contest Winner
One Southborough family must be have had an a wicked awesome week! A Southborough resident won one of this summers' Mix 104.1 radio's Beach House contests. It came with a private party featuring a concert by the Dave Matthews Band.
Speaking to the morning crew, Erin Whiting revealed herself to be a longtime DMB fan. She recalled standing in long Ticketmaster lines with friends back in the day to see the band perform at the Tweeter center. You can listen to that interview below at about 1½ minutes in:

When I heard her on the radio, I considered walking the dog by the lucky winner's house a few times to strike up a friendship. But, the prize was listed as only giving use of the beach house for 5 people overnight and a party for 20.
I'm guessing her list filled up pretty quick – especially since Whiting told DJs Karson & Kennedy that she has three young children. (And I mean young. Click on photo right to see the winning family from the Mix website.)
The station shared a highlight reel from the concert that took place on Monday.