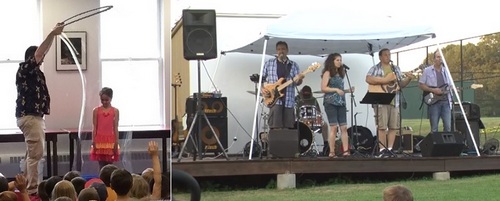 Here are highlights of what's happening around town this week.
[Note: The highlights don't include ongoing weekly programs. For those listings and more, check the Event Calendar.
Plus, for daily ongoing activities/resources and summer camps, check out my what-to-do-with-kids-this-summer series and my summer-fun-for-adults posts.]
Tuesday, June 25, 2019
Book Bugs: Farm Fun for Little Ones (10:00 – 11:00 am) @ Chestnut Hill Farm, Chestnut Hill Road: An interactive children's story time or ages 1-5. We'll read a farm story, make a craft, have a snack, and explore the farm! Registration $9/ child for TTOR members or $15/child for non-members. (Adults are free.) For details, see dedicated post.
Poetry Workshop (6:30 – 8:30 pm) @ Southborough Library, Main Level: At the semi-monthly sessions, Everyone is asked to bring in five copies of their original poetry for supportive feedback. If you don't have a poem, come and share your insights. The group meets the 2nd and 4th Tuesday of every month.
Wednesday, June 26, 2019
Outdoor Story Time (4:00 – 4:45 pm) @ Southborough Library back lawn: Bring a blanket and a snack and join us on the lawn for story time! No registration is required and open to all ages. (In cases of inclement weather, story time will be held indoors.)
Southborough Summer Concert Series (6:00 – 8:00 pm) @ Neary School grounds: Hit the Bus will headline. The free family friendly concerts are scheduled bi-weekly with raindates the following week. Pack a picnic blanket/chairs. Vendors will be selling food. For details on the series, see dedicated post.
Sunset Yoga (7:30 – 8:30 pm) @ Chestnut Hill Farm, Chestnut Hill Road: Our yoga instructor will guide you through Vinyasa Flow Yoga, a flowing, dynamic style of yoga that emphasizes fluid transitions from pose to pose, seamlessly linking body, breath, and movement. $9 per TTOR member or $15 per non-member. For details and to register, click here.
Thursday, June 27, 2019
Mike the Bubble Man (11:00 am – 12:00 pm) @ Southborough Library, main level: The children's entertainer will use music, choreography, and comedy, to make bubbles—in all different shapes and sizes—come alive, sparking imagination and wonder. This program is sponsored by Fay School.
Audiobook Club (Sci-Fi/Fantasy books) (7:00 – 8:00 pm) @ Southborough Library, main floor: A monthly club focusing on Science Fiction / Fantasy books. In June, the club is listening to and/or reading The Passage by Justin Cronin.
BBC Discussion Series (7:00 pm) @ Southborough Library, Eaton Meeting Room: The Southborough Library is organizing a bi-weekly discussion series that revolves around BBC television series. The historical backdrop of the series will be part of the lively discussions of how these productions have provided a window into the lives of the 'commoner' to the crowned heads of each era. For details, see dedicated post.
Saturday, June 29, 2019
Car Wash for "A Dog for JayJay" (10:00 am – 2:00 pm) @ Transfer Station, 147 Cordaville Road: This fundraiser is to help a Southborough family seeking a service dog for their teenage son with autism. (Stay tuned for a dedicated post with more details about the fundraiser's mission.)
Chess program at Library (2:00 – 3:30 pm) @ Southborough Library: The Southborough Library's Saturday Chess program for players ages 12+ who are interested in learning beginner chess skills. (This is the last session for the summer, since the Library is closed on Saturdays in July and August.)
Updated (6/26/19 9:23 am): I replaced the link to the summer concert with the more recent post.