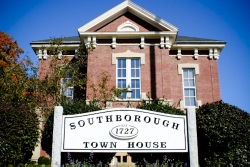 Here is a selection of the committee and board meetings for the week along with my selected highlights from the agendas. All these meetings are open to the public, so you're welcome to stop on by.
Be aware that changes to the meeting schedule are known to happen throughout the week. For an updated list of meetings, visit the town website.
Monday, June 24, 2019
[Editor's Note: Given the above agenda, it looks like I was wrong about Recreation Director Doreen Ferguson extending her work into July. The Town held a celebration at the Community House last week to congratulate her on the retirement planned for this week. Her official last day is June 30th.]
Hearty congrats to Recreation Director @DfergusonDoreen on her pending retirement next week. Enjoy your next chapter! #nomorenightmeetings #teamsobo #communityleadership pic.twitter.com/IfSc061VIB

— Town of Southborough (@17common) June 19, 2019
Now back to this week's meetings. . .
Tuesday, June 25, 2019
Wednesday, June 26, 2019