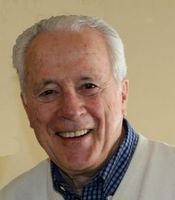 Edward William Barnes, 93, passed away peacefully Monday June 24, 2019 at home. Edward was born on Feb. 2, 1926 in Watertown, the youngest son of Francis and Sarah (King) Barnes. He was brother to Paul, Joseph, Francis, Elizabeth, Emily and Marie. He was predeceased by his loving wife of 67 years, Barbara Jeanne (Slamin) and is survived by his children: sons: Ted Barnes, Tom Barnes and his wife Cyndi; daughters: Kathie Ablondi and her husband John, Jeanne Ahern and her husband Brian; six grandchildren: Kristen Ablondi Papson and John Ablondi, Tom, Matthew, Robbie and Avery Barnes and three great grandchildren: Luke and Ryder Papson and Ryan Ablondi.
Ed taught Social Studies for 25 years in the Watertown Public Schools until he retired in 1988. After many years living in Framingham he and Barbara moved to Marshfield where he was able to enjoy his vegetable gardens and continue his passion for teaching by serving as a permanent substitute in the Hanover Public Schools. To be closer to his children and grandchildren, he and Barbara left Marshfield in 1999 and moved to Southborough where they created great and lasting memories for the past 20 years. Ed was a proud veteran of the US Navy during World War II serving in the Pacific Theatre.
Visiting hours are Thursday June 27 from 4:00 to 7:00 p.m. at Boyle Bros. Funeral Home, 173 Union Ave., Framingham. A funeral Mass will be celebrated Friday June 28 at 10:00 a.m. at St. Matthew's Church, 26 Highland St., Southborough. Burial with military honors in Calvary Cemetery will be private. The family suggests in lieu of flowers, that memorial donations be made in his name to: St. Matthew's Parish, 105 Southville Rd., Southborough, MA. 01772 or to: Bright Focus (Macular Degeneration) 22512 Gateway Center Drive, Clarksburg, MD 20871. For further information, please visit www.boylebrothers.com.