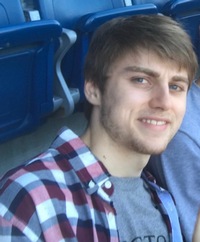 Ryan P. Nicholson, 20, of Southborough passed away unexpectedly in a motor vehicle accident on Sunday, June 23, 2019, in Northborough.
He was the adored son of Paul and Maria (Trombetta) Nicholson of Southborough.
Ryan attended school in Southborough and was a 2017 graduate of Algonquin Regional High School of Northborough and a 2018 graduate of Bridgton Academy of Bridgton, ME. He was presently attending Framingham State University. Ryan was affectionately known by his family and friends as "Nikel" and "Nikelback." Ryan was also adventurous, determined, and had a good sense of humor. He was an avid hockey and lacrosse player; enjoyed riding his motorcycle, hiking and climbing in the NH mountains. He was the first recipient of the Specialist Brian Arsenault K. Memorial Fund Academic Award. To know him was to love him.
In addition to his parents, he is survived by his sister Erin Nicholson of Southborough; his paternal grandparents, Jean and Jack Nicholson of Auburn; Theresa and Joseph Trombetta of Dennis; several aunts, uncles and many cousins.
A Mass of resurrection will be held on Sunday, June 30, at 1 PM at St. Matthew Church, 26 Highland Street, Southborough. Burial will be private.
Contributions may be sent in Ryan's memory to the Ryan P. Nicholson Memorial Fund proceeds will go to Starhawks Youth Hockey Association, Hudson MA, c/o Main Street Bank, 6 E Main Street, Southborough, MA 01772.
To leave words of condolence to the family, please visit www.morrisSouthboroughfuneral.com