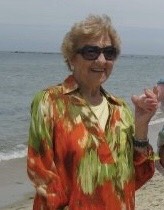 Marianne J.(Ruocco) Geary, 96, of Southborough, passed away peacefully on Saturday, June 29, 2019 surrounded by her family, at her home.
She was the beloved wife of Warren J. Geary who died in 1983.
Born in Somerville, she was the daughter of the late Lillian (Russo) and Louis Ruocco.
Marianne was a 1940 graduate of Lexington High School., and earned her BA in English Literature in 1944 at Emmanuel College in Boston. She received her Master's Degree in Special Education from Assumption College in 1976.
From an early age, through her participation in Girl Scouts and 4-H Club, Marianne's dedication to public service was evident. She and her husband, Warren J. Geary, moved to Southborough in 1950. From the very beginning, Marianne immersed herself into the community in many activities and volunteer efforts including the School Committee, Our Father's Table, and Friends of the Retarded (FOR).
As a professional, Marianne changed the lives of many as a devoted educator. In addition to over 40 years as an educator in the public schools, she dedicated the last 16 years of her career to the boys at the Fenn School in Concord. Her mission as an educator was simple: never give up, no matter how daunting the task may be.
Marianne is survived by her 7 children, her 7 grandchildren, and her 4 great grandchildren.
A graveside funeral service will be held at the Southborough Rural Cemetery in Southborough on Monday, July 8. At 10:30 am
Memorial contributions may be made in her memory to the American Diabetes Association American Diabetes Association, 2451 Crystal Dr. # 900 Arlington, VA 22202. Diabetes.org
Arrangements are under the care of Morris Funeral Home, 40 Main St. Southborough.
To leave words of condolence to the family, please visit www.morrisSouthboroughfuneral.com