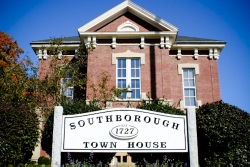 Here is a selection of the committee and board meetings for the week along with my selected highlights from the agendas. All these meetings are open to the public, so you're welcome to stop on by.
Be aware that changes to the meeting schedule are known to happen throughout the week. For an updated list of meetings, visit the town website.
Monday, July 8, 2019
Tuesday, July 9, 2019
Thursday, July 11, 2019
*Southborough Access Media will broadcast the meeting(s) live on Verizon-37 and Charter-192. Click here to see this week's schedule with rebroadcast times. (Videos are also usually made available through their YouTube channel by the following morning.)
**Updated (7/9/19 8:44 am): Conservation Agent Melissa Danza asked me to notify readers that the Conservation Commission's Park Central hearing is being continued to a future meeting:
Our first round of peer review has not been completed yet so they have not had time to make any necessary revisions or response comments. This will be continued to our August 1st meeting.