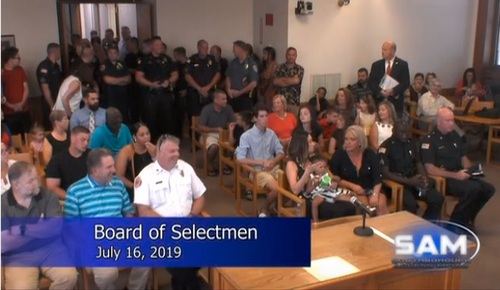 Last night, the Board of Selectmen unanimously promoted Sgt Ryan Newell to Lieutenant. Newell's prior job was subsequently filled by the promotion of Officer Aaron Richardson.
Chief Kenneth Paulhus said that he had numerous outstanding candidates. He followed with regret that he didn't have more positions available for deserving members of the department. He asked for a round of applause for his whole department.
Paulhus commended Newell for biding his time since failing to snag the promotion 8 years ago. He said that Newell's score in 2011 had been a virtual tie with another candidate. At that time, Sean James was promoted based on more years of experience. James retired in May, opening up the spot for a new promotion.
In between, Paulhus said that Newell condinued to let his attituded and performance speak for itself. But Newell wasn't automatically nominated for the post. The department opened an official internal search process.

Newell's nomination by the chief and Town Administrator was based on his experience and scores.
Paulhus recounted that Newell transferred to Southborough in 2002 after a 4 year stint in Nantucket. Promoted in 2004, he now has 15 years of leadership experience. He also has a BA in Criminal Justice, a Master of Science, and completed an FBI leader executive development program.
Newell's responsibilities included leading the SPD to its Mass Accreditation award, one of the first 65 municipal departments in the state. He is the public information officer and in charge of social media and public records. He placed first in the competitive testing process, with top scores in all categories including the assessment center.
Town Administrator Mark Purple, who also participated in the sergeant search processes, echoed Paulhus' sentiments about the number of good candidates. He reminded the board that when Paulhus was hired, he was told that it would be good to develop an internal succession plan. He said there were a number of candidates who, if they weren't "ready" during this process would be ready for the next one.

Paulhus told the crowd that Richardson joined the SPD in July 2011. He started as an auxilury officer in 2006 in Waltham, then reserve officer in Medford, and worked as a corrections officer in Norfolk.
At the SPD, he has worked as the Senior Center liaison, field training officer, DARE instructor, and representative on the Worcester County drug task force. Paulhus quipped that he's one of the departments members that have "been described as a one man community policing unit."
Richardson competed against eight other "highly qualified" candidates. He placed first in most categories of the competitive process, including job performance, assessment, and interviews. The chief lauded:
In my career, I'd be hard pressed to think of another candidate who has received as much positive feedback for his work from the community. I look forward to watching him grow into this leadership opportunity.