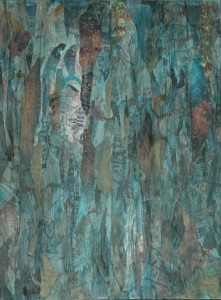 There will be no shortage of art in Southborough this weekend, but one Southborough artist will have her sights set a bit farther out of town. Collage artist Kathleen (Kay) Hendrick will celebrate her first solo show at The Gallery at Second Stage Studio, in Cumberland, Rhode Island.
You might have seen some of Hendrick's work at the recent collage exhibit at the Southborough Arts Center. Hendrick also curated that show. She says of her work, "In collage I have found a medium that allows me to express a wide range of emotions through images both traditional and abstract using found and created materials."
There will be an artist's reception at the gallery in Cumberland on Sunday, May 3, from 1:00 pm to 4:00 pm. The show runs through May 23. Regular gallery hours at Monday through Friday 1:00 pm to 8:00 pm, Saturday 9:00 am to 6:00 pm, and Sunday 1:00 pm to 4:00 pm. Other hours are available by appointment.