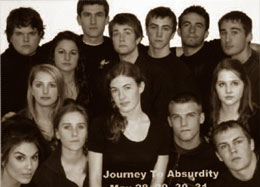 This weekend Algonquin will present Journey to Absurdity, a collection of five absurdist plays.
The plays include Anton Chekhov's "The Marriage Proposal," Christopher Durang and Wendy Wasserstein's "Medea," Samuel Beckett's "Catastrophe," Edward Albee's "The Sandbox," and Eugene Ionesco's The Bald Soprano."
Performances will take place in the Algonquin Small Performance Theater. Showtimes are as follows:
May 28th –7:00pm
May 29th &May 30th –8:00pm
May 31st –3:00pm
Tickets are $7 for adults, and $5 for seniors and students. Seating is limited.
For more information, check out the Journey to Absurdity flyer.