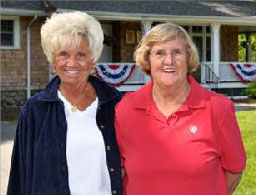 The track at Algonquin will be packed on Friday night, but not with the usual set of high school sprinters, shot-putters, and high jumpers. Instead, the track will be taken over by cancer survivors, cancer patients, friends, family, and supporters.
From Friday afternoon into the wee hours of Saturday morning, Algonquin will play host to the Northborough-Southborough Relay for Life, a fundraiser for the American Cancer Society.
Relay teams will walk continuously from 7:00 pm on Friday to 6:00 am on Saturday to raise money for cancer research. So far 38 teams and over 300 walkers have signed up.
As of yesterday, the teams had raised more than $18,000 in the fight against cancer. Southborough's own Bea Ginga was the fundraising leader with $4,405 raised. Her goal is $5,500.
Bea isn't the only Southborough resident taking part. You can see a list of teams on the event website. While you're there, why not take a moment to donate? You don't need me to tell you that cancer touches us all. Here's a chance to help your community do something about it.
For more details, including a detailed schedule, see the Northborough-Southborough Relay for Life website.