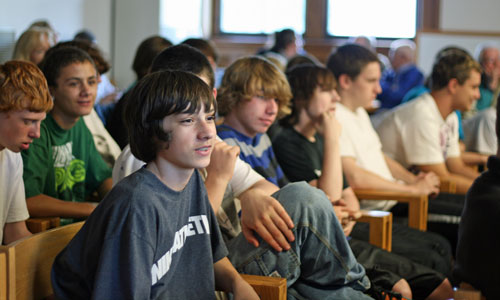 The Hearing Room at the Town House was as packed as I've ever seen it for the Board of Selectmen meeting last night, but it was anything but your typical crowd. The seats were filled mostly by teenagers and their parents, all of whom came to lend their support for a new skateboard park.
Recreation Director Doreen Ferguson told selectmen the kids "live, eat, and breathe" skateboarding. "They are disciplined and self-motivated. They're practicing all the time, but they're doing it in unsafe locations like the train station."
Ferguson said a skateboard park would provide a safe environment for kids to practice their sport.
No public money
The proposal is to build the skateboard park at Choate Field at Woodward where an existing volleyball court now stands. The park would be funded through grants and private fundraising. No public money would be used to fund the project.
"No public money?" Selectman Sal Giorlandino asked. "That's music to my ears."
Ferguson estimated the total cost of the project to be somewhere in the $70,000 to $100,000 range. She said there are "thousands of grants" that cover building skateboard parks.
She acknowledged that there are other fundraising efforts going on in town, like the one for the new ladder truck. "With the economic climate, it may take us longer to raise the money, but we're committed to it, the kids are committed to it."
Maintenance and liability
Ferguson said she talked with officials in area towns that have skateboard parks about maintenance and liability issues. Other towns reported the primary maintenance issue was graffiti. Ferguson said that would be nothing new, noting that Southborough has had to deal with graffiti at other places like Finn School.
As for liability, the officials Ferguson talked to said they've had relatively few injury claims. Fergus estimates insurance would cost about $1,500 per year.
Selectwoman Bonnie Phaneuf asked if the skateboard park would be monitored. "It's just like a basketball court," one parent said. "There's no supervision, it's just part of the park."
Laura Watkins, a parent of skateboarders, said that in this day and age, a skateboard park is "no different than a playground."
What's next?
The selectmen were generally in favor of the proposal and outlined some next steps for the group, including meeting with town counsel to make sure a skateboard park would be permitted under the deed to Choate Field, as well as meeting with the Conservation Commission and the School Committee. They also asked the group to further plans for an alternate site (Neary by the tennis courts) as a backup.
Once all that's done, selectmen want to see a more detailed plan.
Watkins pointed out that youth in Southborough have been lobbying for a skateboard park for years. "I believe this is a really positive thing for our kids, and they deserve it."