Skateboards aren't the only things with wheels the Recreation Department cares about. They also care about bikes, specifically, bike parking.
Recreation Director Doreen Ferguson asked selectmen on Tuesday night for approval to purchase as many as seven new bike racks to be placed around town. Costs will run up to $3,000, but that entire amount will be eligible for reimbursement by the Metropolitan Area Planning Council's Regional Bike Parking Program.
Ferguson said they want to place the new bike racks at the library, in the town center near the Southborough House of Pizza, and at Woodward, Neary, Trottier, and Mooney Field (Finn).
Lest you think bike racks are solely utilitarian, Ferguson said the two racks destined for downtown will be special designs that bring artistic interest as well as functionality.
This is the design of the bike rack that will go at the library. Clever, no?

And a version of this one in black will go by the pizza place.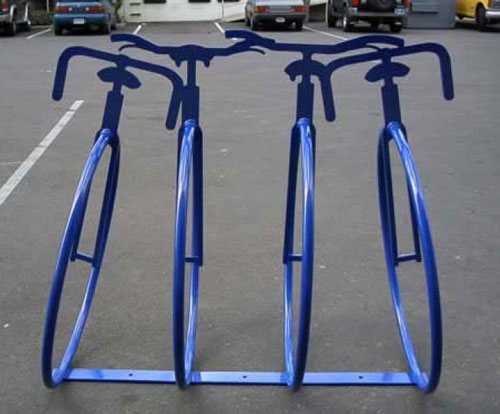 All others will be your everyday standard racks.